Which Puerto Rico Bond Defaults Next? A 1,600% Yield Says It All
by
The market braces for new securities missing payments on May 1

Island says it can't pay $422 million on development bank debt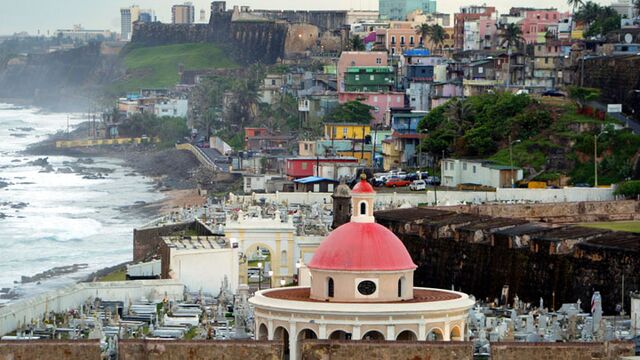 As far back as December, Puerto Rico Governor Alejandro Garcia Padilla warned that May would be the month when it could no longer pay bondholders. It's almost here.
The commonwealth owes $470 million in payments on May 1, including $422 million on securities sold by its Government Development Bank, which has already frozen some deposits to preserve cash. Because May 1 falls on a Sunday, the island has until Monday to come through.
The failure to pay what's owed on the development bank bonds would mark the biggest default yet by Puerto Rico, whose fiscal crisis has been steadily building for the past 10 months. With the government nearly drained of its cash, Moody's Investors Service says such a lapse is a virtual certainty. Investors appear to agree: The securities last traded for 32 cents on the dollar, just weeks before the government was scheduled to pay them off at full face value. That effective yield: About 1,600 percent.
The Caribbean island of 3.5 million residents faces the next major hurdle in July, when $2 billion of bond payments are due, including those on general obligations that the constitution says should be paid above all else.
Its defaults so far have been relatively small, limited to about $143 million of missed payments, according to Moody's. None of the securities were backed by the government's full taxing power, nor are the development bank's, leaving bondholders with little legal recourse.  
The Public Finance Corp., which borrowed to help cover the government's deficits, hasn't met its debt-service bills since August, leaving the bonds trading at about 7 cents on the dollar. The commonwealth's Infrastructure Financing Authority followed in January, defaulting on debt backed by rum taxes. Bonds maturing in 2028 with insurance from Financial Guaranty Insurance Co., which only covered 22 percent of what it owed, traded this month for an all-time low of 26.7 cents on the dollar.
Here's the market's best guess for which other securities are most at risk. What follows are the amount of debt outstanding per Puerto Rico issuer, along with the most recent trading prices of bonds that aren't insured against default, according to data compiled by Bloomberg. When possible, the securities with the highest volume over the past month were used. They are listed from the highest yields (which represents the most risk) to the lowest.

Puerto Rico Government Development Bank: $7.7 billion. The GDB lends to the commonwealth and its localities. When those loans are repaid, the bank can pay off its debt. With $422 million due in May, and officials saying there's not enough money to make it, tax-exempt bonds maturing in 2023 last traded for an average yield of 37 percent.
Puerto Rico Highways & Transportation Authority: $5.4 billion. The highway agency repays its debt with gas-tax revenue. It owes less than $1 million in May, which will probably be paid with reserve funds because the commonwealth has been using the agency's revenue to pay general obligation bondholders. Moody's said there's still a chance that they'll default. Bonds maturing July 2033 last traded for an average yield of 29.4 percent.
Puerto Rico Pension-Obligation Bonds: $2.8 billion. The taxable debt was sold to bolster the island's nearly depleted pension fund. The bonds are repaid from contributions that the commonwealth and municipalities make to the retirement system. The system owes $13.9 million of interest every month in this budget year. Securities maturing in 2038 last traded for an average yield of 21.9 percent.
Puerto Rico Convention Center District Authority: $397.7 million. The agency oversees the convention center, as well as other facilities, and receives hotel-room tax receipts to repay its debt. It will make its July payments in full by using reserve funds, according to Standard & Poor's. Like the highway securities, they're subject to clawback. Bonds insured by FGIC maturing in 2023 last traded for an average yield of 21 percent.
General-obligations: $12.9 billion. The debt is backed by the island's full faith and credit. Its constitution says general obligations must be repaid before other expenses. Puerto Rico owes just $3 million on all commonwealth-guaranteed debt in May, before $805 million of principal and interest is due July 1. Securities with a 5 percent coupon and maturing in 2041 last traded for an average yield of 9.5 percent. Debt with an 8 percent coupon and due in 2035 last traded for an average yield of 13 percent.
Puerto Rico Public Buildings Authority: $4.2 billion. The PBA bonds are repaid with lease revenue that public agencies pay for their office buildings. The debt is more secure than typical revenue bonds because the commonwealth has guaranteed repayment. Bonds maturing in 2042 last traded for an average yield of 11 percent.
Puerto Rico Sales Tax Financing Corp.: $16 billion. The bonds, know by the Spanish acronym Cofina, are repaid from dedicated sales-tax revenue and come in two types: senior, with the first claim on revenue, and subordinated, which are second in line. The authority will make debt payments in August because revenue has already been delivered to the bond trustee, according to a Standard & Poor's report. Senior Cofinas maturing in 2057 last traded for an average yield of 9.7 percent, while subordinate ones maturing in 2042 yielded 15.8 percent.
Puerto Rico Electric Power Authority: $8.6 billion. Prepa, as it's called, is the island's main supplier of electricity and repays the debt from what it charges customers. The utility is the only government entity that has cut a deal with creditors to reduce what it owes, a step that Garcia Padilla wants to do on a broader scale for all of the island's obligations. That restructuring has yet to be completed, with some procedural hurdles yet to be overcome. Tax-exempt bonds maturing in 2030 last traded at an average yield of about 11 percent.
Puerto Rico Aqueduct & Sewer Authority: $3.6 billion. The utility, called Prasa, supplies most of the island's water. The debt is repaid from water rates charged to customers. The water agency owes $2.6 million in May. Bonds maturing in 2042 last traded at an average yield of 9.2 percent.
Before it's here, it's on the Bloomberg Terminal.
LEARN MORE