Vestas Wind Profit Beats Estimate as Orders Surge to Record
By
EBIT margin widens after cost-cutting effort started in 2011

CEO says Vestas is preparing for a `busy' year of deliveries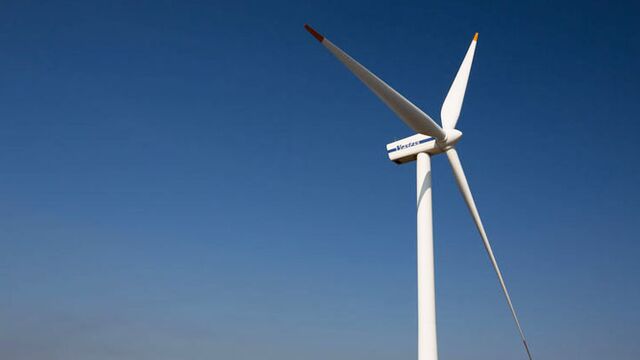 Vestas Wind Systems A/S's profit fell less than expected in the first quarter as its orders for wind turbines surged and margins widened, shaking off a slump in revenue that Chief Executive Officer Anders Runevad had warned about.
Net income declined 38 percent to 35 million euros ($40 million) in the first three months of the year from 56 million euros a year earlier, according to a statement Friday from the manufacturer that's based in Aarhus, Denmark. That was higher than the median forecast of eight analysts compiled by Bloomberg for a 26 million-euro profit. Revenue slid 4 percent to 1.5 billion euros, in step with expectations.
The period ending in March, traditionally a one for the wind industry, marked Vestas's 10th profitable quarter. The company is rebounding from slashing 3,000 jobs since 2011 and closing a third of its factories to survive a plunge in turbine prices. Europe's listed wind turbine-makers including Nordex SE, Gamesa Corp. Tecnologica SA and Vestas all doubled in value last year after record installations.
"Vestas delivered record-high first quarter order intake as well as our largest ever combined wind turbine and service order backlog," Chief Executive Officer Anders Runevad said in a statement to the Copenhagen stock exchange. "EBIT margin also improved, while free cash flow, although at negative levels, was in line with expectations as we build up inventory preparing for a busy remainder of 2016. Full-year guidance remains unchanged."
Shares Surge
Shares in Vestas surged as much as 4 percent to 461.30 krone ($70.67) on the Copenhagen Stock Exchange, the most in more than two months. It's up 52 percent in the past year, beating the 11 percent slump of the NYSE Bloomberg Global Wind Energy Index, which tracks 88 companies in the industry.
The company has about 2 billion euros in cash. "We're planning to keep a strong balance sheet to build up inventory, we want to have flexibility to deal with the higher levels of activity we're expecting for later this year," said Marika Fredriksson, chief financial officer, in a phone interview.
Before the results, Runevad had said Vestas would suffer a drop in deliveries in the first quarter due to fairly low levels of activity. Firm and unconditional orders rose to a record of 2.4 gigawatts after receiving a 1-gigawatt order from Statkraft AS and partners for the Fosen project in Norway.
Earnings before interest, taxes and special items rose by 6 million euros to 85 million euros. The margin is expected to be at least 11 percent in 2016 after special items, unchanged from what Vestas had forecast. It was 5.8 percent in the first quarter, wider than the 5.2 percent reported a year ago.
Dividend Outlook
The company paid its first dividend in 2015 and began a share buy-back program that Runevad said may extend into this year. Yesterday, it canceled 2.5 million of it shares, which it had purchased in the autumn in a $170-million payout to shareholders.
Service agreements with contractual future revenue will generate 9.4 billion euros this year. The combined backlog for 2016 including turbine sales is expected to be 3 billion euros more than last year. The company acquired operations and maintenance companies UpWind Solutions Inc. and Availon Holding GmbH last year for $156 million.
"The service part plays a bigger role in the mix going forward," Runevad said in an interview with Bloomberg Television on Friday. "I'm confident that this market has the potential to grow even faster than the turbine business."
The company maintained its sales guidance for the year, saying that it expects a minimum of 9 billion euros.