Valeant Guts Board as It Shifts Strategy, Attempts Fresh Start
by and
Internal control was not effective, Valeant said in filing

New board members nominated; directors to get more involved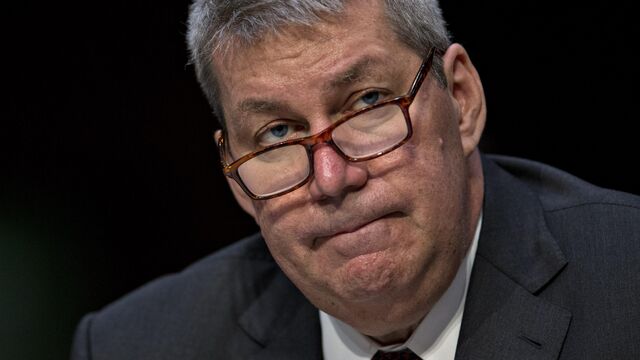 Valeant Pharmaceuticals International Inc. attempted to put the worst of its problems behind it Friday, announcing a shakeup of its board and filing a long-awaited annual report where it promised significant changes to its strategy and better oversight of its executives.
It blamed senior managers for problems that have sent the stock down more than 80 percent since August and that put the company at risk of defaulting on its debt. By filing the annual report -- which was due in March -- Valeant comes into compliance with its credit agreements. The drugmaker also said expected no further financial restatements related to its 2014 and 2015 results, revisions to which were given in the filing.
Valeant's shares and bonds fell. The company also said it risks breaking a May 16 deadline to file its first-quarter results, which could put it back at risk of breaching its debt agreements.
"It will likely take some time for investors to figure out the new trajectory for Valeant's business," Alex Arfaei, an analyst with BMO Capital Markets, said in a note to clients. He said that continuing pressure from health insurers and uncertainty about Valeant's distribution channels could continue to weigh on the company.
Valeant has been held up as an emblem of high pharmaceutical costs in the U.S., and is being investigated for buying the rights to old, inexpensive drugs and then significantly raising their prices. It was also criticized for using aggressive sales tactics to circumvent restrictions by the health insurers and pharmacy managers who oversee patients' prescription dug benefits.
Strategy Change

In the filing, Valeant said it may change its corporate strategy and that "some of those changes may be significant." That could include cutting drug prices and changing how it distributes products to reflect reductions in wholesaler inventories.
Valeant shares fell 6.5 percent to $32.97 at 11:43 a.m. in New York. Its $3.25 billion of 6.125 percent bonds lost 1.25 cents on the dollar, falling for the first time in more than a week to trade at 84.5 cents on the dollar and yield 8.65 percent at 10:25 a.m. in New York on Friday, according to Trace, the bond-price reporting system of the Financial Industry Regulatory Authority.
Board Changes
Five of the company's independent directors won't run for re-election, including Mason Morfit, president of ValueAct Capital Management LLC, one of Valeant's biggest holders, Valeant said in a statement Friday. Outgoing Chief Executive Officer Mike Pearson and former Chief Financial Officer Howard Schiller will also not run again.
In their place, Valeant will add Argeris Karabelas, a former executive at Novartis AG and a partner at the venture capital firm Care Capital LLC; Russel C. Robertson, BMO Financial Group's head of anti-money laundering; and Amy B. Wechsler, a New York dermatologist.
Valeant's senior managers were blamed for creating a culture that led to the restatements.
"The company has determined that the tone at the top of the organization, with its performance-based environment, in which challenging targets were set and achieving those targets was a key performance expectation, may have been a contributing factor resulting in the company's improper revenue recognition," Valeant said in the report. Pay for "certain members of senior management" may be impacted for 2015 because of financial control issues.
Oversight
The new board will also be more directly involved with the company's day-to-day management. One or more independent board members will periodically attend management's planning and forecasting conference calls and business reviews "to monitor, and if necessary, address any tone at the top, management override, corporate governance, internal control and accounting and financial reporting issues."
Valeant previously announced that it would need to restate earnings from 2014 to 2015 after reviewing its now-severed relationship with controversial mail-order pharmacy Philidor Rx Services LLC.

Debt Deadlines
Filing the report by Valeant's self-imposed Friday deadline temporarily satisfies bond and loan holders, who have sent notices of default related to the delayed financials, which were supposed to be submitted in March.
But the company also said it may not file its first-quarter financial statements on time. Missing a May 16 deadline would put it in breach of reporting requirements with bondholders who hold $19.5 billion of its debt. At that point, they'll be able to send the company a new notice of default, which Valeant said will start the clock on a 60-day cure period and could shorten the extended deadline of July 31 that it got from loan holders.
The Laval, Quebec-based company has endured multiple controversies in recent months related to its business practices, accounting and drug pricing. It's facing investigations from Congress and the U.S. Securities and Exchange Commission. It delayed filing the 2015 financial statements while an ad-hoc committee of the board reviewed its relationship with Philidor.
The company will also soon have a new CEO, Joseph Papa, Perrigo Co.'s former CEO, who was hired this week to take over from Pearson next month and will join the board as chairman. The change also brought activist investor Bill Ackman to the board.
In the 10-K filing, which was signed by Pearson, Valeant said that it is the subject of investigations by the U.S. Securities and Exchange Commission, the U.S. Attorney's Offices in Massachusetts and New York, the state of Texas, the North Carolina Department of Justice, the Senate's Special Committee on Aging and the House's Committee on Oversight and Reform, and has received document requests from the Autorite de Marches Financiers in Canada and the New Jersey State Bureau of Securities.
Restatement
The restatements reduced net income for 2014 by $33 million and revenue by $58 million. For the first quarter of 2015, the restatements reduced revenue by $21 million and increased net income by approximately $24 million.
Valeant gave more details on how it had accounted for revenue at Philidor, which the drugmaker cut ties with last year following concerns that the pharmacy was using aggressive tactics to increase sales. Before Valeant began consolidating Philidor's financials into its own in December 2014, it counted sales when products were sent to the pharmacy. After, once Valeant entered into an option to buy Philidor, it started counting sales through Philidor only when products were dispensed to patients.
Before Valeant changed the revenue methodology, however, the company took actions including "fulfillment of unusually large orders with extended payments terms and increased pricing," with an "emphasis on delivering product prior to the execution of the purchase option agreement and filling a substitute order of equivalent value for an unavailable product." The result was that some revenue was double-counted.
Before it's here, it's on the Bloomberg Terminal.
LEARN MORE