Valeant CEO Michael Pearson Had Chance at $2.66 Billion Payday
by , , and
Grant disclosed Friday set share target of $1,181.81

Outgoing chief could have gotten 2.25 million shares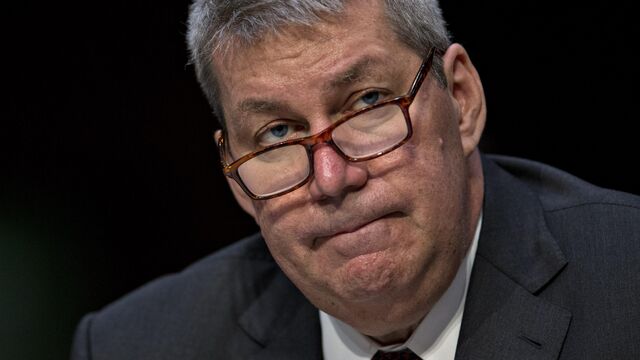 Michael Pearson got an unusually big incentive in January 2015 to boost the share price of Valeant Pharmaceuticals International Inc.: a potential payday of $2.66 billion.
A grant the company disclosed for the first time Friday would have given the chief executive officer 2.25 million shares if Valeant reached at least $1,181.81 on three specific dates between October 2019 and April 2020.

The 56-year-old CEO is unlikely to see that windfall. Shares of the Laval, Quebec-based company have plunged 67 percent this year, trading at $33.26 at 1:05 p.m. in New York, or about 87 percent below their peak in August. Pearson is stepping down next month when his replacement, Joe Papa, arrives.
Lofty expectations for the stock weren't necessarily out of line in early 2015. Pearson, who took over in 2011, oversaw a meteoric rise in Valeant shares that included annual gains from 2009 through 2014 of at least 22 percent. They more than doubled in 2010. The slide since then came after probes into Valeant's business practices, accounting and drug pricing. It's facing investigations from Congress and the U.S. Securities and Exchange Commission, restated results for 2014 and 2015, and delayed filing last year's financial statements while an ad-hoc committee of the board reviewed its relationship with drug-company Philidor Rx Services LLC.
Clawback Provision
Valeant has a clawback policy that gives the board discretion to demand repayment of bonuses and equity-based compensation under certain circumstances, according to a proxy statement filed Friday that disclosed the grant. The incentive grant wouldn't pay Pearson at all if total shareholder return over the measurement period was less than 10 percent.
Papa will receive a similar award that vests after four years depending on the company's share price, according to a separate filing. His maximum payout would come if shares trade at $270, which would yield him $504 million. Papa isn't expected to get any additional equity compensation for the next four years, the filing shows.
Spokesmen for Valeant didn't immediately respond to a phone call and e-mails seeking comment.
The board's compensation committee eliminated the portion of Pearson's bonus tied to financial and strategic targets, though it still awarded him $2 million for "individual objectives" including succession planning and "addressing the employee morale issues" after the company failed in its attempt to combine with Allergan Plc.
Airplane Trips
Pearson didn't receive a salary in 2015. He flew on company-provided aircraft at a cost of $551,777 last year, the fifth-highest expense among the 200 best-paid U.S. executives at companies that have filed proxy statements for fiscal 2015, according to the Bloomberg Pay Index. He will get a $2 million salary this year and has a target bonus of $4 million, which will be partly tied to his help in the leadership transition.
Ronald Farmer is chairman of the board's talent and compensation committee and is set to retire after Valeant's annual meeting on June 14. Fredric Eshelman, founder of Pharmaceutical Product Development LLC, ValueAct Capital Management LLC's Robert Hale, and Robert Power, a former executive vice president at Wyeth LLC, also serve on the committee.
Before it's here, it's on the Bloomberg Terminal.
LEARN MORE