U.S. Stocks Slip Amid Earnings Reports, Consumer Spending Data
by
Equities post worst weekly declines since February selloff

Apple weighs on tech for second day; Amazon jumps on earnings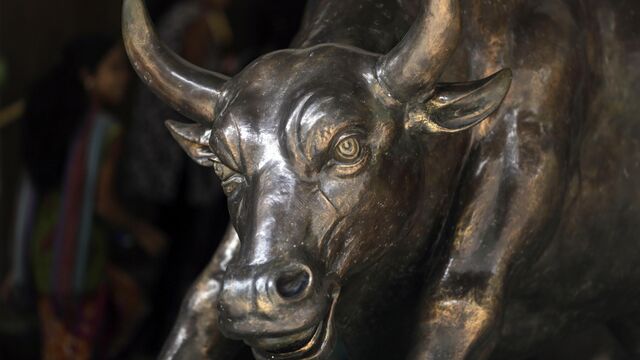 U.S. stocks fell, with the S&P 500 posting the worst two-day drop since February, amid lackluster earnings and few signs of a pickup in economic growth.
Equities rebounded sharply in the final hour of trading, with the major indexes cutting their worst losses by more than half. Corporate reports jostled stocks, as Gilead Sciences Inc. retreated 9.1 percent, the biggest drag on the benchmark after its profit missed estimates. Apple Inc. slumped for a seventh session a day after Carl Icahn said he cashed out his stake in the company. Amazon.com Inc. surged 9.6 percent after posting better-than-estimated results.
The S&P 500 declined 0.5 percent to 2,065.30 at 4 p.m. in New York, eking out a 0.3 percent gain for the month while losing 1.3 percent this week, the most since February. The Dow Jones Industrial Average fell 57.12 points, or 0.3 percent, to 17,773.64. The Nasdaq Composite Index slid 0.6 percent. About 9 billion shares traded hands on U.S. exchanges, 14 percent above the three-month average and the most since the quarterly expiration of options and futures contracts on March 18.
"A lot of optimism came into the market last week as we crossed 2,100, which makes it vulnerable to a short-term pullback, and that's what we're getting right now," said Bruce Bittles, chief investment strategist at Milwaukee-based Robert W. Baird, which oversees $110 billion. "The weakness that developed yesterday and today has stemmed from weak earnings. The market is being supported by very favorable monetary policy, but valuations are very stretched and earnings aren't coming through."

As policy makers and investors assess the health of the world's biggest economy, a report today added to concerns growth is struggling to gain traction. Consumer spending rose less than forecast in March, wrapping up the weakest quarter in a year for the biggest part of the U.S. economy even as incomes accelerated. Faster wage growth may be needed to help encourage American consumers to spend more freely and jump start an economy coming off its weakest performance in two years.
A separate measure showed consumer confidence fell to a seven-month low in April as Americans' expectations about economic growth dropped to the lowest point since September 2014. Trader bets for a Federal Reserve interest-rate rise in June have fallen to 14 percent from 20 percent a week ago, while the first meeting with at least even odds for an increase has been pushed back a month to December.
Energy producers were the strongest April performers in the S&P 500, tracking crude to a five-month high. The group rose 8.7 percent in the month, while raw-materials advanced 4.9 percent. Technology stocks have been battered by a batch of weaker-than-forecast earnings from heavyweights such as Apple, Microsoft Corp. and Google parent Alphabet Inc. The group fell 5.5 percent for the worst month since August.
Rally Stumbles
The benchmark equity index had rebounded as much as 15 percent from a 22-month low in February, though the rally faltered this week amid corporate earnings disappointments. The gauge reached a four-month high on April 20, within 1 percent of a record set last May.
More than half of S&P 500 members have reported earnings this season, with 77 percent beating profit forecasts and 57 percent exceeding sales expectations. Analysts still project a 8.2 percent decline in first-quarter profit for the index's companies, compared with forecasts for flat growth at the start of the year.
"Even with the better numbers you've had from Facebook and Amazon, that's not going to help the rest of the market," said Michael James, managing director of equity trading at Wedbush Securities Inc. in Los Angeles. "We have to consolidate a little bit. We're seeing a point where the market's at a potential brink to break down just a touch."
Health-Care Slides

In Friday's trading, seven of the S&P 500's 10 main industries declined, as health-care companies slipped 1.5 percent, while financial and technology stocks lost at least 0.6 percent. Consumer discretionary companies rose 0.5 percent, buoyed by Amazon and Expedia Inc.'s biggest jump in 10 weeks after it topped profit estimates.
The CBOE Volatility Index increased 3.2 percent to 15.7, a three-week high. The measure of market turbulence known as the VIX has climbed 14 percent in two sessions, giving it the biggest monthly gain since December.
Gilead Sciences dropped 9.1 percent, the steepest in 16 months. The decline pushed the Nasdaq Biotechnology Index lower by 2.6 percent for a fifth day of losses and its longest losing streak since January.
All but 10 shares in the 69-members S&P 500 technology index declined. Semiconductors fell, led by a 2.7 percent loss for Intel Corp. All of the 30 companies in the Philadelphia Stock Exchange Semiconductor Index decreased, with Skyworks Solutions Inc. and Micron Technology Inc. sliding at least 6.9 percent.
Data storage companies Seagate Technology Plc and Western Digital Corp. slumped more than 11 percent after reporting results and giving outlooks that fell short of analysts' estimates.
Airlines Tumble
Airlines tumbled, with a Bloomberg index of U.S. carriers mired in its longest downturn since 2012. The gauge lost 12 percent in April for the worst monthly decline since July 2011.
Amazon rose 9.6 percent, the most since July. The company's sales and profit topped estimates on robust demand for quick-turnaround delivery, cloud services and gadgets like the Kindle and Echo.
Ford Motor Co. and General Motors Co. lost at least 2 percent. Data today showed consumer spending in March was held back by less demand for motor vehicles. Wal-Mart Stores Inc. lost 3 percent, the most on a closing basis since October.
Among others moving on corporate news, Stericycle Inc. plunged 22 percent to a three-year low after its earnings missed estimates and the medical waste management provider cut it outlook. Monster Beverage Corp. soared 13 percent, the most in the S&P 500 Friday. The shares rose to a three-month high after first-quarter profit topped analysts' estimates, helped by a distribution deal with Coca-Cola Co. that's boosting sales.
Before it's here, it's on the Bloomberg Terminal.
LEARN MORE