U.K. Home Loans Surge Most Since 2007 in Tax Deadline Rush
by
Consumer credit also spiked in March, Bank of England says

Bank loans to non-financial businesses fell on the month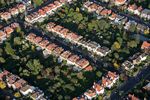 U.K. mortgage lending surged by the most since October 2007 last month, a further sign of the stampede for investment properties before a tax rise took effect in April.
Net advances rose to 7.4 billion pounds ($10.8 billion) in March, from 3.6 billion pounds a month earlier, the Bank of England said in London on Friday. That's far above the 3.7 billion pounds predicted in a Bloomberg survey of economists. Consumer credit also spiked the most since 2005.
The increase reflects landlord demand before a three percentage point surcharge on second homes and investment properties came in to force on April 1. Mortgage lending may be set to slow now the deadline has passed, with the data showing banks approved 71,357 loans for house purchase, down from 73,195.
BOE Deputy Governor Jon Cunliffe warned this week that housing and consumer credit are "hot spots" that the central bank is watching. He also said the Financial Policy Committee won't hold back from quashing risks that appear in the property market. Stability officials are on the front line of risk management as record-low interest rates help stoke demand.
Net lending to consumers increased by 1.9 billion pounds in March, compared with 1.4 billion a month earlier.
Cheaper Loans
The effective interest rate on new secured loans fell two basis points to 2.49 percent in March. The rate on outstanding mortgages dropped by one basis point to 2.94 percent.
Loans to non-financial businesses slipped by 2.7 billion pounds in March, compared with an average monthly increase of 1.2 billion pounds in the previous six months. Advances to small and medium sized businesses fell 0.2 billion pounds, the BOE data showed.
M4, a broad measure of money supply, fell 0.4 percent and rose 1.6 percent from a year earlier. An underlying measure of M4 increased 6.5 percent on a 3-month annualized basis.
The BOE also said overseas investors bought a net 7.8 billion pounds of gilts following net sales of 3 billion pounds in February.
---
Explore Housing Prices in London

Before it's here, it's on the Bloomberg Terminal.
LEARN MORE