Telefonica Sales Fall to Lowest in Decade as Currencies Drop
by
Spanish price rises fail to outweigh effects of devaluations

Earnings report is first for Jose Maria Pallete as chairman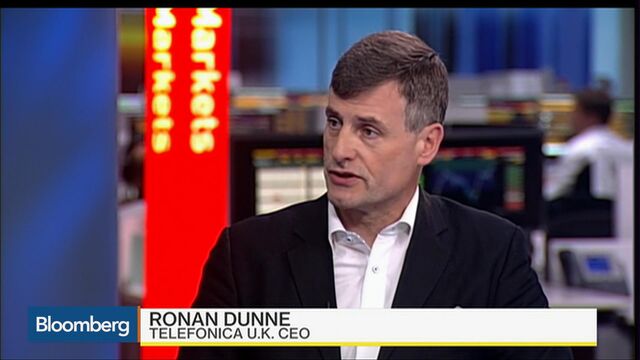 Telefonica SA, Spain's largest phone company, posted its lowest quarterly revenue in more than a decade as depreciating currencies in Latin America added to competitive pressures in Europe.
Sales fell 6.6 percent to 10.78 billion euros ($12.3 billion), the Madrid-based company said Friday. That's the lowest since 2005 and trailed the average analyst estimate of 10.85 billion euros, according to data compiled by Bloomberg. Operating income was 3.4 billion euros excluding depreciation and amortization, matching the average estimate. The shares declined 0.8 percent at 9:13 a.m. in Madrid.

While currencies drove the quarterly performance, investor are also focused on the risk that European regulators could block the sale of the carrier's O2 unit in the U.K. Failure to seal the deal would mean Telefonica will have to find other options to fund a debt reduction plan with which to fulfill promises made to credit rating companies as it seeks to avoid downgrades.
O2 is an attractive asset and is well-positioned even if the deal is blocked, Telefonica U.K. Chief Executive Officer Ronan Dunne said in a Bloomberg Television interview Friday.
The O2 deal is the first major challenge faced by Jose Maria Alvarez-Pallete since he replaced Cesar Alierta as chairman and CEO this month. Pallete, who had been previously running most of the day-to-day business as chief operating officer since 2012, was the main driver behind the idea to sell O2.
Telefonica's personnel expenses grew 7.1 percent in the quarter, driven mainly by inflation in Latin American countries led by Venezuela and Argentina. Regional inflation also boosted other operating expenses.
In Spain, the company posted an increase in both revenue and operating expenses for the first time since 2008, with sales jumping 8.6 percent, mainly due to the impact of the pay-TV service DTS it acquired in May.
Following several years of aggressive pricing to maintain market share in Spain amid plummeting revenues, Telefonica and rivals have been raising prices locally as the economy grows. In the third quarter of 2015, the carrier saw Spanish sales increase for the first time since 2008, driven in part by DTS. The company is also relying on football broadcasts to attract clients.

Currencies in all of Telefonica's top Latin American markets, including Argentina, Colombia and Peru, weakened on a year-to-year basis relative to the euro. In its main foreign market, Brazil, the company is enjoying a slight profit growth in local currency terms, but is faced with an economic recession and rivals that are cutting prices.
Net financial debt rose 292 million euros in the quarter 50.2 billion euros.
Before it's here, it's on the Bloomberg Terminal.
LEARN MORE