SNB's Jordan Still Sees Room for Maneuver on 'Overvalued' Franc
by
Central bank president gives speech at shareholder meeting

Any policy action subject to cost-benefit analysis, Jordan say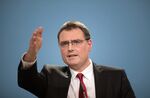 The Swiss National Bank hasn't yet exhausted its policy options and won't hesitate to take unconventional steps in the face of a a franc that remains "significantly overvalued," President Thomas Jordan said.
The central bank is pursuing a twin-pillar approach of negative interest rates and a pledge to intervene in currency markets, and Jordan said any further action must be subject to a thorough analysis of potential risks. The SNB's deposit rate has been at a record-low of minus 0.75 percent for more than a year, and economists have repeatedly speculated there could be another rate cut in response to easing in the euro area.
"Even though we have already gone a long way with negative interest and our willingness to intervene in the markets, there is still room for maneuver in our monetary policy," the SNB president said, according to the text of a speech for delivery at the central bank's annual general meeting in Bern on Friday. "However, any action we take will always be based on careful consideration of the costs and benefits in the short and long term."

While the franc has weakened against the euro so far this year, at 1.09644 it remains stronger than the 1.20 per euro ceiling the SNB defended from 2011 until early 2015.
The strong currency has caused the pace of economic growth to slow in Switzerland, and consumer prices to fall. According to Jordan, that effect on inflation won't last.
"The inflation rate should re-enter positive territory in 2017," he said.
Before it's here, it's on the Bloomberg Terminal.
LEARN MORE