Puerto Rico Fate in Congress Rests on Ex-High School Teacher
by and
Utah's Rob Bishop is charged with forging plan for debt crisis

His House Natural Resources panel trying to fix snags in bill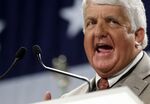 Before being elected to the U.S. House, Rob Bishop taught American history, government and German in a public high school. Now, the Utah Republican is at center of a swirling debt crisis that is pitting Puerto Rico against hedge funds and sparring groups of bondholders.
With Congress about to blow through a Sunday deadline, when the island is likely to default on a $422 million debt payment, the chairman of the House Natural Resources Committee doesn't sound thrilled about being the chamber's point man on the issue.
"Now, in hindsight, if I'd never been involved in this, I'd be happy," Bishop joked this week. At least, it seemed like he was kidding.
The fact that he even has the Puerto Rico debt portfolio is something of an accident, partly the product of Judiciary Committee chairman Bob Goodlatte ceding jurisdiction, with the blessing of party leaders. More typically, Bishop's panel deals with issues touching on wildlife, energy production, parks and other public lands, and Native Americans, although it does also handle territorial and insular law.
But Bishop is winning plaudits from both Republican leaders and House Democrats for being a serious and honest broker in trying to hash out compromise legislation.
"I do appreciate that Chairman Bishop and his staff have been willing to work in good faith on a viable solution," said Raul Grijalva of Arizona, the top Democrat on the Natural Resources panel. "The door remains open for us to work with Chairman Bishop to develop a truly bipartisan piece of legislation."
QuickTake: Puerto Rico's Slide
Time is starting to run short. Beyond the May 1 deadline, Puerto Rico faces a $2 billion payment on July 1. But committee Republicans and Democrats, along with U.S. Treasury officials and top party leaders, continue to haggle over rewrites of a bill, H.R. 4900, which was scuttled earlier this month amid disagreements.
After a meeting Friday among House Republicans, Bishop told reporters he hopes to offer a revised version right after lawmakers return May 10 from a week-long recess.
He said the new version won't be significantly different from the current proposal, which would set up a federal oversight board to help the island with its finances, and create a process for restructuring its debt. 
"It's wonkish, nerdy stuff," Bishop said earlier regarding the details that remain to be ironed out. He said that includes the oversight board's exact powers and processes, as well as language tied to any court-sanctioned debt restructuring, if it comes to that. But he said his committee has done "a good bill," and insists that the rewrite is almost finished. 
Democrats remain unhappy that Republicans have included provisions to lower the minimum wage on the island, exempt it from overtime regulations, and to make a land transfer involving a wildlife refuge -- things that are difficult for a lot of Democrats to accept.
One of Bishop's biggest challenges has been to counter the fears among his own caucus that the bill amounts to some kind of government bailout.
'Enormous Complexity'
Representative Tom Marino, a Pennsylvania Republican who initially worked on his own version of Puerto Rico legislation as a subcommittee chairman on the Judiciary Committee, said that Bishop is being asked to manage a bill to with "enormous complexity," including "politically."
Still, Bishop said Friday, "We're going to carry it with a majority of Republican votes. The number of Republicans opposed to it on my committee is highly overstated."
Bishop's own legislative record over his 14 years in Congress is rather sparse. He wrote a 2011 law that allows the Agriculture Department to permit more sporting activities, including skiing, in national forests. 
But most of his legislative pursuits have been devoted to parochial issues impacting his home state. For instance, he has used his perch as chairman of the Natural Resources panel to challenge the federal role in managing public lands. The federal government controls nearly two-thirds of the land in his state.
That's not to suggest the white-haired, perpetually tanned Bishop has not been in a position to lead before. 
Former Speaker
Bishop was elected in 1978 to the state legislature at age 27, later serving as House Speaker in 1993 and 1994. He continued teaching after that, while serving as Utah Republican Party chairman and also lobbying for the party and the National Rifle Association. He first won his U.S. House seat in 2002.
His experience as Utah's House speaker gave him ample experience nudging other lawmakers toward consensus on legislation. Yet, his efforts were often focused on figuring out which fellow Republicans were needed to vote "yes" on items, said Tim Chambless, an associate professor at the Hinckley Institute of Politics at the University of Utah in Salt Lake City. 
Democrats, he noted, don't pull much weight in the state's Republican-dominated legislature.
"As speaker, he was able to please enough of the majority party while overlooking the Democrats," Chambless said. "He had to please members of his own party and a Republican governor."
Chambless said Bishop is not one to shy away from the limelight. "Rob Bishop is someone who is comfortable with public attention," Chambless said. "You knew he was in the room. He's quite verbal, and he has a sardonic and often sarcastic sense of humor. He was very knowledgeable, very intelligent."
Advertising Blitz
In the U.S. House, Bishop has been a reliable conservative, even joining the Tea Party Caucus in 2010. But now, he finds himself a target of advertising in his own district by groups opposed to any congressional help in restructuring Puerto Rico's debts -- ads that accuse him of standing with the Obama administration to support a bailout of Puerto Rico.
"It is bizarre that the number one issue in the First District of Utah is Puerto Rico," said Bishop.
At the same time, there's no evidence that Bishop's role in the Puerto Rico legislation or his rise to the committee chairmanship last year has translated into a gush of donations for his campaign coffers.
Watch Next: QuickTake: Puerto Rico's Swelling Debt
If Bishop manages to produce a revised bill and get it through his committee, there's still the question of who will be in charge of wrangling enough votes on the House floor, particularly from fellow Republicans, to send it to the Senate.
"Still not sure who is driving the car on that," said Grijalva.
Before it's here, it's on the Bloomberg Terminal.
LEARN MORE