Portugal Keeps DBRS Investment-Grade Rating, QE Eligibility
by
Fitch, Moody's, S&P rate Portugal debt as non-investment grade

Portugal is euro area's worst-performing bond market this year
Portugal's credit rating was retained at investment grade by DBRS Ltd., securing eligibility of the country's debt for the European Central Bank's bond purchase program.
The Toronto-based company kept Portugal's rating at BBBL, its lowest investment grade, and maintained the stable trend. For Portugal's bonds to qualify for purchase under the ECB's quantitative-easing plan, the nation must be rated investment grade by at least one major ratings company.
"The rating reflects Portugal's euro-zone membership, favorable public debt maturity structure and reduced vulnerabilities, following a substantial correction of the current account deficit over the past few years," DBRS said in a statement on Friday. "However, Portugal faces significant challenges, including elevated levels of public sector debt, ongoing fiscal pressures, low potential growth, and high corporate sector indebtedness."
Prime Minister Antonio Costa was sworn in at the end of November and his minority Socialist government plans to reverse state salary cuts faster than the previous administration proposed, while increasing indirect taxes. Costa says his government will be propped up in parliament by the Left Bloc, Communists and Greens, which haven't followed the Socialists in backing European budget rules in the past.
Euro-area finance ministers on Feb. 11 told Portugal to make plans for additional budget measures in case it runs into trouble meeting its targets.
Debt, Growth
"There's a lot of rhetoric and noise in the marketplace, but face to face it's pretty clear that the authorities in Portugal are committed," Fergus McCormick, head of sovereign ratings at DBRS, said in a telephone interview after the announcement. "They're making pretty significant fiscal adjustments in order to adhere to the Stability and Growth Pact targets and medium-term objectives."
Portugal targets a budget deficit of 2.2 percent of gross domestic product in 2016, narrower than 4.4 percent in 2015 and below the European Union's 3 percent limit. It forecasts debt will decline for a second year to 124.8 percent of GDP in 2016 from 128.8 percent last year. The government sees the economy growing 1.8 percent this year.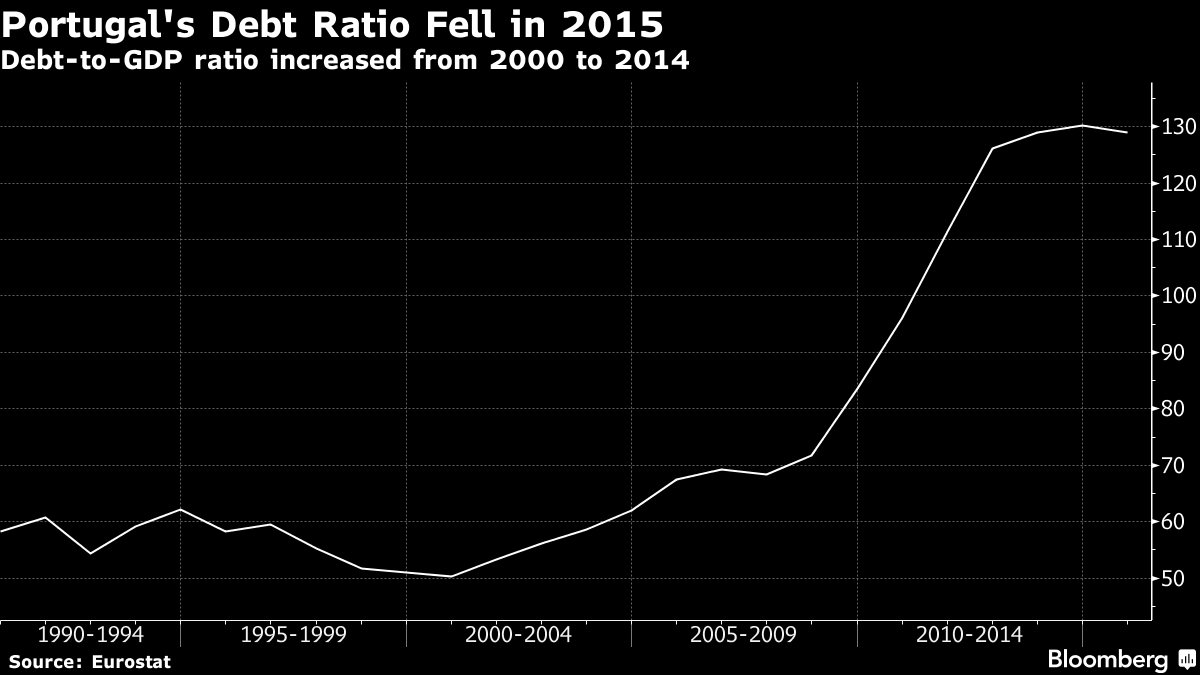 "Growth remains the big question mark," McCormick said. "It is reassuring that the economy has returned to growth, but whether or not this can continue is unclear."
The next review by DBRS is scheduled for October, when the government is also due to hand in its 2017 budget proposal. The government's debt is rated below investment grade, or junk, by Fitch Ratings, Moody's Investors Service and Standard & Poor's.
Even with the ECB's purchases, Portugal is the euro region's worst-performing sovereign-bond market this year through Thursday, according to Bloomberg World Bond Indexes. The nation's securities have lost 2.3 percent, more than Greece and compared with gains for everywhere else in the bloc.
Cash Buffer
Portugal's 10-year bond yield was at 3.2 percent on Friday after touching 4.5 percent on Feb. 11, the highest since March 2014. It peaked at 18 percent in 2012 at the height of the euro region's debt crisis.
"The decision to maintain Portugal's credit rating is a sign of confidence," the Finance Ministry said in e-mailed comments. "The Portuguese economy requires stability and growth-enhancing reforms, such as those put forward in the Stability Program and in the National Reform Program."
The country built up a cash buffer before its bailout program ended in 2014 and the debt agency forecasts that the treasury cash position will be 6.5 billion euros at the end of 2016, compared with 6.6 billion euros at the end of 2015.
Before it's here, it's on the Bloomberg Terminal.
LEARN MORE