Sports
Nike Goes Long on the NFL Draft, Signs Everyone
Why choose some of the top picks when you can buy them all?
By and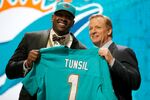 This year's top National Football League prospects are going to the Los Angeles Rams, Philadelphia Eagles, and San Diego Chargers, but almost all of them joined another team in Beaverton, Ore., too.
Nike Inc. extended its recent investment in American football by signing endorsement contracts with a startling 15 members of the rookie NFL class. For perspective: Under Armour Inc., the popular athletic apparel maker, has just one. The most coveted quarterbacks and top overall picks on Thursday—North Dakota State University's Carson Wentz and University of California at Berkeley's Jared Goff—signed with Nike. So did offensive lineman Laremy Tunsil, an All-American at the University of Mississippi, Ohio State University running back Ezekiel Elliott, and Heisman Trophy winner Derrick Henry, a running back from the University of Alabama.

Nike declined to discuss its draft-day strategy or how much it's paying the rookies. The contracts are for three to four years apiece, in line with deals Nike cuts with prospects in professional basketball and soccer. Still, for a sport as brutal as football, Nike's investment is akin to betting on horses that race in minefields. 
The average length of an NFL career is a hotly debated topic . But it's safe to say a lot of these guys–if not most–won't be superstars in five years. For every Cam Newton and Andrew Luck, there's a JaMarcus Russell and a Vince Young. In December, while unveiling new NFL uniforms at its Oregon headquarters, Nike brought out running back LaMichael James, who finished third in Heisman Trophy voting in 2010 and was picked early in the 2012 draft. Since then, James has rushed for fewer than 200 yards as he grappled with injuries.
Even if a college star stays healthy and has some big games in the pros, there's also the chance he'll makes headlines for the wrong reasons—call it Manziel risk. Tunsil, for instance, is already mired in controversy months before he's scheduled to suit up for the Miami Dolphins. Moments before the draft kicked off on Thursday, a video was posted purporting to show him smoking a bong through a gas mask. Then, at a press conference, a reporter asked Tunsil if he took money from college coaches. The lineman once considered the most talented player of his class slipped to the 13th pick. Yikes.

But all these guys will be plastered in Swooshes anyway, as Nike is the league's official uniform supplier, at least through the 2019 season. These deals are largely about the shoes: In pro football, athletes can wear whatever brand of cleats they like, much as in World Cup soccer. And then there's the requisite advertisements and public appearances, of course.
Nike executives know the NFL survivor statistics as well as anyone. By 2020, many of these guys will be coaching high school ball or leading CrossFit classes. But the players are to the shoemaker what tech startups are to venture capitalists: Most will go bust, but the rare success pays off big. Plus, this early on, the ante is still pretty cheap. (Nike rose 40 cents to $58.94 at 4 p.m. Friday in New York.)
Look at the upside. Before the 2015 draft, Nike grabbed the consensus top picks, quarterbacks Jameis Winston and Marcus Mariota, who each showed star potential in his first year in the pros. Oakland Raiders wide receiver Amari Cooper and Rams running back Todd Gurley, two more Nike first-rounders from last year, also paid immediate dividends. Cooper even starred in a commercial days before he was drafted.
Winning, in the sports sponsorship game, isn't everything. Equally important is not losing. When the next Stephen Curry enters pro sports, Nike wants to be sure it doesn't blow it and watch him rake in cash for Adidas AG or Under Armour. Under Armour's NFL roster already includes New England Patriots quarterback Tom Brady as well as Carolina's Newton and Green Bay Packers running back Eddie Lacy.
As much as Nike's draft-day play may look like a Hail Mary, it's really all about defense.