In a Divorce, Who Gets to Keep the Family Dog?
Divorce courts usually treat pets like property, even if their owners see them more like children.
By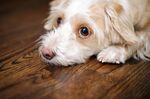 Rudy is a 9-year-old German shorthaired pointer with a regal personality and loving owners who are divorced. The humans in his life agreed to a shared-custody arrangement: Every two weeks, Rudy goes back and forth between their two homes in Western Massachusetts.