How Paul Taubman Became Wall Street's New Highest-Paid Executive
by , , and
The banker received $164 million in awarded pay for 2015

Awards push him past Blackstone's Schwarzman, Gamco's Gabelli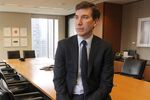 Paul J. Taubman, who made his name advising on transactions worth hundreds of billions of dollars, may have made his best deal yet.
The former Morgan Stanley banker is the highest-paid Wall Street executive for 2015 with awarded compensation of $164 million, according to the Bloomberg Pay Index. That's almost entirely in stock granted in conjunction with the spinoff of his PJT Partners Inc. from Blackstone Group LP in October. It's not guaranteed -- he'll need to more than triple the value of his firm to receive it all.

In that sense, Taubman's package from PJT looks more like that awarded to a startup entrepreneur than that of private equity titans or fellow bank bosses. On paper, he could make as much as Blackstone's Steve Schwarzman and Gamco Investors Inc. founder Mario Gabelli combined. Their pay was in cash. Large grants of equity tied to financial or market goals, by contrast, has been a strategy used to pay the likes of Tesla Motors Inc.'s Elon Musk and GoPro Inc.'s Nick Woodman.
A spokeswoman for PJT said the company declined to comment on Taubman's ranking or compensation.
Verizon Deal
Taubman, 55, worked at Morgan Stanley for three decades, advising on big transactions including the $184 billion deal in 2000 that created AOL Time Warner Inc. In 2013, he departed the bank amid a leadership struggle and founded PJT. He continued to maintain significant clients, working on Verizon Communications Inc.'s $130 billion buyout of Vodafone Group Plc's wireless stake completed in 2014.
Looking to boost growth at PJT, he agreed that year to merge with Blackstone's advisory businesses. The combined units began trading as PJT Partners on Oct. 1.
Most of Taubman's pay package was in restricted stock awarded in exchange for his interest in the predecessor firm.
More than half, $86 million, consists of shares he'll receive only if PJT hits certain stock targets by 2021, according to the Bloomberg Pay Index. He'll get 20 percent of the award if the price more than doubles to $48 and all of the 3.05 million units if it grows to $79. PJT closed Thursday at $22.60, giving it a market capitalization of $406 million.
Fraud Investigation
Taubman's goals could be challenging. No publicly traded investment bank has seen that kind of growth since Greenhill & Co. went public in 2004, and those shares have since plunged. PJT plummeted in March under the shadow of a U.S. investigation of Andrew Caspersen, a former employee accused of scheming to defraud investors of $95 million.
To account for those odds, PJT valued the awards at $5.72 a share in its proxy statement, about an 80 percent discount to face value at fiscal year-end. The Bloomberg Pay Index doesn't discount shares that are tied to performance, as the U.S. Securities and Exchange Commission allows companies to do.
Other than a $250,000 salary, the rest of Taubman's compensation is in the form of 2.75 million stock units that vest through 2019 -- regardless of the investment bank's performance. They are valued at about $78 million, according to Bloomberg's ranking. That will be enough to vault him past Schwarzman and six other owners to become PJT's largest shareholder.
Taubman is ranked No. 2 among executives across industries on the Bloomberg Pay Index, after Patrick Soon-Shiong, chief executive officer of NantKwest Inc., a cancer-research firm that went public last July. His awarded pay totaled $329.7 million.

Taubman supplants Gabelli as Wall Street's highest-paid executive. The Gamco founder earned $89 million in 2014, narrowly beating out Schwarzman, who earned $86 million that year.
In 2015, the leaders of the biggest U.S. banks are further down the list. Goldman Sachs Group Inc. Chief Executive Officer Lloyd Blankfein was awarded $33.1 million, up from $31.8 million the year before, and Jamie Dimon, the CEO of JPMorgan Chase & Co., was paid $30.4 million, a jump from $21.2 million in 2014.
Before it's here, it's on the Bloomberg Terminal.
LEARN MORE