Houston Faces More Flooding Through the Weekend, U.S. Says
by
New round of thunderstorms forecast to arrive Friday in Texas

Houston devestated by flooding last week from earlier storm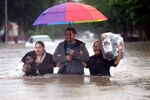 More flooding threatens Houston as thunderstorms move through eastern Texas on Friday.
A flood warning and flash-flood watch have been issued for the area around Houston from 1 p.m. through Sunday morning. The storms could leave as much as 8 inches (20 centimeters) in some areas, the National Weather Service said.
"The ground is saturated, and any storms with high rain rates will lead to rapid runoff and flooding," the weather service said in its warning. "The heaviest rainfall threat should peak Friday night through Saturday afternoon. Flash flooding is a very dangerous situation."
 
Houston, the fourth-largest U.S. city, was hit by devastating floods last week that killed at least seven people, according to CNN. More than 100,000 lost power, the city's light rail network was shut down and President Barack Obama declared a major disaster for parts of the state, freeing up funds to help rebuild.
 
The weather service said "unusually moist tropical air" will begin streaming into eastern Texas on Friday.
 
"Motorists and persons with outdoor activities should stay abreast of the latest forecasts and have contingency plans for when the heavy rain arrives," the agency said.
Before it's here, it's on the Bloomberg Terminal.
LEARN MORE