Draghi Corporate-Bond Rally Fizzles Out as Investors Seek Yields
by and
Investment-grade debt returns cool in April after March surge

Prices rose last month as ECB announced plans to enter market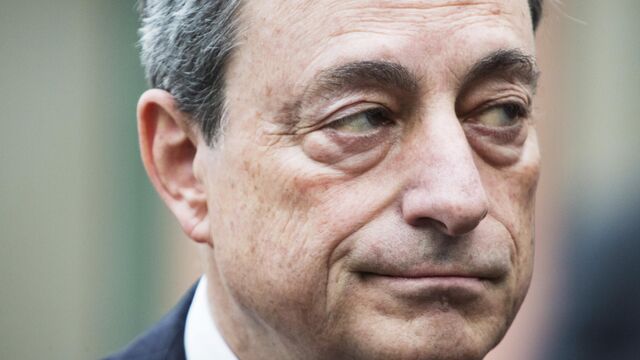 Europe's biggest corporate-bond rally in more than three years is already sputtering.
Returns from investment-grade corporate bonds in euros have slowed to 0.4 percent in April, the lowest this year, based on Bank of America Merrill Lynch index data. That's down from 1.6 percent in March, the best month since July 2012, when prices surged following the European Central Bank's announcement that it will start buying non-bank corporate debt.
The slowdown suggests lower yields are encouraging investors to turn to other assets, such as overseas debt and junk bonds. That may support ECB President Mario Draghi's efforts to encourage investment as he seeks to drive up inflation and economic growth.
"The ECB wants investors to take more risks," said Craig Veysey, head of fixed income for the private wealth arm of Sanlam Group, which manages about 40 billion pounds ($58 billion) of assets. "It has squeezed returns out of the areas where it is expected to make purchases."
Sanlam is considering purchases of sterling corporate bonds as well as euro-denominated company notes that the ECB is unlikely to buy, Veysey said. The Frankfurt-based institution will start buying non-bank euro notes with at least one investment-grade rating in June.
Emerging Markets
Aberdeen Asset Management Plc is searching for higher returns outside of Europe, including in the U.S. and emerging markets. The average yield on investment-grade non-financial corporate notes in euros fell below 1 percent for the first time in about a year earlier this month, according to Bank of America Merrill Lynch index data.
"Draghi wants investors to get out of investment-grade credit," said Luke Hickmore, an Edinburgh-based senior investment manager at Aberdeen, which oversees about 291 billion pounds. The ECB "will drive returns down to such small levels very few will want to be left in there."
Inflows into investment-grade funds in Europe slowed to $653 million in the week ended April 27 from a $1.8 billion a week earlier, Bank of America Corp. strategists said in a note to clients, citing data from EPFR Global. That was the seventh week of inflows since the ECB announcement.
Still, the decline in borrowing costs is stoking investment-grade corporate issuance. Sales rose about 18 percent from a year earlier in April to 30 billion euros, helped by deals from overseas companies including FedEx Corp. and McDonald's Corp., according to data compiled by Bloomberg.
Investment-grade credit risk has leveled off after the biggest monthly decline in eight years in March. The Markit iTraxx Europe Index, which tracks credit-default swaps tied to 125 highly rated companies, is little changed this month at 73 basis points, according to data compiled by Bloomberg.
"A lot of the rally has already been priced in," said Philipp Good, who oversees about $3 billion of bonds at Fisch Asset Management AG in Zurich, and favors dollar bonds and emerging-market debt. "I don't see much value in this part of the market."
Before it's here, it's on the Bloomberg Terminal.
LEARN MORE