Corbyn Starts U.K. Labour Anti-Semitism Probe to Calm Unease
Eddie Buckle
Opposition party faces elections across Britain on May 5

Former London Mayor Livingstone linked Hitler with Zionism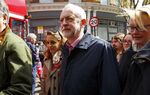 The leader of the U.K.'s Labour opposition said he's starting an inquiry into anti-Semitism in a bid to resolve a crisis that's erupted within the party a week before elections across Britain. 
Labour leader Jeremy Corbyn said late Friday that the probe will be headed by Shami Chakrabarti, former director of the human-rights advocacy group Liberty. He'll also propose a new party code of conduct to make clear that Labour won't tolerate anti-Semitism or any form of racism.
Concerns among Labour lawmakers over allegations of anti-Semitism within the party burst into the open this week when one of Corbyn's closest allies, former London Mayor Ken Livingstone, described Adolf Hitler as a supporter of Zionism in a series of broadcast interviews. While Livingstone's party membership was later suspended, many within Labour said Corbyn had to go much further if he wanted to deal with the increasing discomfort many voters felt about the party.
"I have campaigned against racism all my life and the Jewish community has been at the heart of the Labour party and progressive politics in Britain for more than a hundred years," Corbyn said in an e-mail. "There is no place for anti-Semitism or any form of racism in the Labour Party, or anywhere in society, and we will make sure that our party is a welcoming home to members of all communities."
Voters go to the polls on May 5 to elect a new Scottish Parliament and Welsh Assembly as well as a London mayor and local councils across England. The controversy may affect local-election results in areas with large Jewish communities, such as north London, according to Andrew Hawkins, chairman of polling company ComRes. Labour's Sadiq Khan is the favorite to win the London mayoral contest, though the party is set for losses outside the capital, polls suggest.
Leadership Challenge
Corbyn's handling of the anti-Semitism matter has prompted Labour's shadow cabinet, concerned about losses in the elections, to begin plotting a leadership coup, the Telegraph reported, without saying where it got the information. David Abrahams, a major donor, also called for Corbyn to resign, saying "Labour needs strong leadership," the Telegraph reported.
The anti-Semitism controversy also comes less than two months before Britons decide whether to stay in the European Union, with polls showing the outcome of the June 23 referendum remains hard to call. Corbyn is backing Prime Minister David Cameron's bid to keep Britain in the bloc.
Livingstone described Hitler as a supporter of Zionism as part of his defense of lawmaker Naz Shah, who was herself suspended from the party in the House of Commons on Wednesday for posts suggesting Israelis should be transported to the U.S.  
Before it's here, it's on the Bloomberg Terminal.
LEARN MORE