Canada Stocks Advance, Cap Third Monthly Gain as Resources Rise
by
Energy, gold producers top stocks in S&P/TSX rally this year

Benchmark index matches best monthly streak since 2014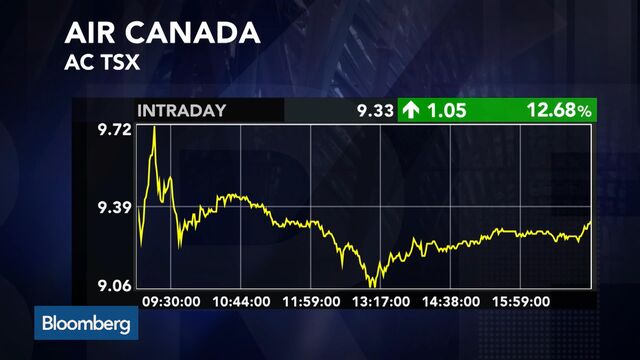 Canadian stocks advanced, capping a third straight monthly gain, as raw-materials rallied on First Quantum Minerals Ltd.'s earnings and the nation's economy contracted less than expected in February.
The benchmark S&P/TSX Composite Index rose 0.5 percent to 13,951.45 at 4 p.m. in Toronto. The gauge increased 3.4 percent in April, matching the longest monthly winning streak since August 2014. It also added 0.6 percent in the last five days, to extend the longest stretch of weekly gains since the year began. The S&P/TSX is one of the best-performing developed markets in the world this year as it rebounds from last year's worst annual decline since 2008.
Canada's gross domestic product declined 0.1 percent in February, smaller than the median 0.2 percent estimate in a Bloomberg survey of economists. The decline is the first in five months, a rare setback in a quarter economists expect will actually show the best expansion in more than a year. Statistics Canada kept in place its January growth estimate of 0.6 percent, the fastest since 2013.

Raw-materials shares surged 5.4 percent to the highest level in more than a year, one of only three groups in the S&P/TSX to climb Friday. Trading volume was 37 percent higher than the 30-day average in April's final trading session.
First Quantum jumped 17 percent, climbing to the highest close since July, after reporting first-quarter earnings and revenue ahead of analysts' estimates. The results reflect higher copper, nickel and zinc output from continuing operations, including the new Sentinel mine, according to Eily Ong, a Bloomberg Intelligence analyst.
Enbridge Inc. and Crescent Point Energy Ltd. fell more than 0.8 percent as energy stocks slipped 0.1 percent, paring a second monthly advance. Oil dropped from a five-month high in New York as OPEC crude production surged by 484,000 barrels a day in April, the most in monthly data going back to 1989. Oil still rose 20 percent this month for the biggest such advance in a year as U.S. production slumped to the lowest level since October 2014.
The resource-dominant S&P/TSX remains closely linked to moves in commodities prices, with an 18 percent rally in the benchmark equity gauge from a Jan. 20 low aligning with a rebound in crude from the lowest levels since 2003. Raw-materials and energy producers are the two top-performing industries in Canada so far this year, up more than 14 percent.
The Canadian benchmark now trades at 21.7 times earnings, about 14 percent higher than the 19 times earnings valuation of the Standard & Poor's 500 Index, according to data compiled by Bloomberg.
Air Canada soared 13 percent, the most in two years, as the airline reported an unexpected first-quarter profit, benefiting from falling fuel prices and rising traffic.
Valeant Pharmaceuticals International Inc. dropped 5.5 percent after filing its delayed 2015 annual report and saying it may make significant changes to its business strategy. Neither outgoing Chief Executive Officer Mike Pearson nor former Chief Financial Officer Howard Schiller will stand for re-election and five independent directors have also told the board they will not run again.
Before it's here, it's on the Bloomberg Terminal.
LEARN MORE