Canada On Pace for About 3% GDP Growth as Spending Holds Up
by
February contraction of 0.1% is less than median forecast

Retail gains counter drop in manufacturing, mining and energy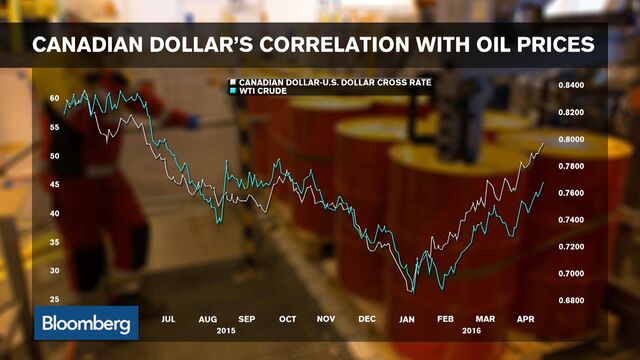 Consumer spending is keeping Canada's gross domestic product on track for the fastest quarterly growth in more than a year.
Retail purchases, led by clothing, food and general merchandise rose 1.4 percent in February from the month before, Statistics Canada said Friday from Ottawa. The report showed the country's economy contracted 0.1 percent in the month, less than the 0.2 percent median forecast in a Bloomberg survey.
Even with the monthly drop, first-quarter GDP growth will come in at 3.4 percent, which would be the most since 2014, according to Mark Chandler at RBC Capital Markets.
"This is bang on what we were thinking in terms of the decline and in terms of the composition," Chandler, head of fixed-income research, said by phone from Toronto. "You would be foolish to look at this without looking at it relative to what we banked the previous three months, which was average 0.4 percent gains."
Canada's dollar was the strongest in 10 months after the report, advancing 0.2 percent to C$1.2534 per U.S. dollar at 10:06 a.m. in Toronto.
Investment Squeeze
The country's economy is undergoing a "complex" transition away from energy production, as companies rein in investment amid lower commodity prices, the central bank said as recently as this week. The bank sees growth in the first quarter running at about a 2.8 percent pace, and the median economist forecast in a Bloomberg survey predicts 2.9 percent.
The February decline was a result of a 0.8 percent drop in the mining, quarrying and oil and gas category, the first in five months, Statistics Canada said. Manufacturing also slid by 0.8 percent, led by transportation equipment, while wholesaling fell 1.8 percent.
Recent figures suggest the economy is poised to bring in solid growth in the first quarter. The core inflation rate that excludes eight volatile products accelerated to 2.1 percent in March and the job gain that month of 40,600 was more than four times forecasts.
Damage from falling commodity prices shrank the economy in the first half of last year, leading Bank of Canada Governor Stephen Poloz to cut interest rates twice to 0.5 percent. The governor reiterated earlier this week that it's unclear when the recovery will be durable enough for him to raise interest rates.
Before it's here, it's on the Bloomberg Terminal.
LEARN MORE