With BOJ Holding Off, Stimulus Focus Turns to Abe's Government
by and
There is `increasing pressure' for a fiscal spending boost

Analysts say Abe may act before next BOJ meeting in mid-June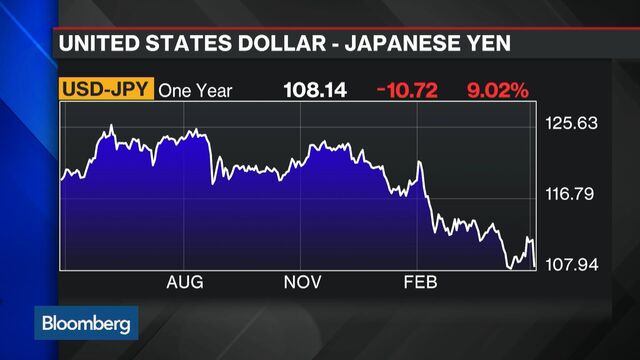 After the Bank of Japan on Thursday disappointed hopes for more monetary easing to revive the economy, the focus now turns to the Abe administration's plans for fiscal stimulus.
With Prime Minister Shinzo Abe set to host his counterparts from the Group of Seven next month, ruling party lawmakers are debating the scope and priorities of a supplementary budget. Also on the table: Delaying a sales-tax increase scheduled for next April. Officials separately are finalizing a broader economic strategy presentation due in June.
Governor Haruhiko Kuroda, whose next policy meeting is in mid-June, said Thursday the government "has a long way to go to achieve its target for the potential growth rate of 2 percent."
Further impetus for action may come before the G-7 summit, with more data showing that Japan is struggling to rebound after a contraction in the last quarter of 2015.
"The central bank may be waiting for the government to make a move first on the fiscal policy side," including decisions on whether to raise the sales tax and implementing a supplementary budget "before committing to further easing moves," Izumi Devalier, an economist at HSBC Holdings Plc, wrote in a note after the BOJ decision.
The BOJ downgraded its view on Japan's potential growth rate by estimating it's now in the range of 0 to 0.5 percent, revising it downward from around 0.5 percent.
Earthquake Damage
The earthquakes earlier this month in Kumamoto, which killed 49 people, led Abe last weekend to say he'll create an extra budget for relief to the region; the size hasn't been determined. Last week, Kozo Yamamoto, a lawmaker in Abe's ruling party, called for issuing 20 trillion yen ($185 billion) in bonds for disaster relief and helping the economy.
Abe "will be under increasing pressure to provide fiscal stimulus in the near term and structural reforms to boost Japan's potential growth rate over the longer term," Tobias Harris, vice president of Teneo Intelligence, wrote in a note before the BOJ policy decision. "The test for Abenomics going forward is whether the BOJ can step back into a supporting role and the Abe government can lead with fiscal stimulus and reform."
Election Due
Some analysts have said the need for earthquake aid gives Abe a chance to put together a larger package of spending to aid the economy, especially before an upper-house election scheduled for July. The lack of BOJ action Thursday reinforced that view.
"Given no further easing by the BOJ, expectations over fiscal stimulus have increased a lot," said  Yuichi Kodama, chief economist at Meiji Yasuda Life Insurance Co. in Tokyo. "Abe may take the lead by saying Japan will apply fiscal stimulus around the G-7 summit."
The discussion of Abe's government issuing more fiscal stimulus is usually accompanied by another round of the guessing game of will-he-or-won't-he-raise the sales tax to 10 percent in 2017.
This week Nobuyuki Nakahara, a former BOJ official who is among a close circle of economic advisers to Abe, said the government should delay the consumption tax hike. A previous increase in 2014 sent Japan into a recession.
Before it's here, it's on the Bloomberg Terminal.
LEARN MORE