Trump Can Trumpet Mumbai, Beijing, Abu Dhabi Naming Triumph
By
Appeals court upholds ownership of names like trumpbeijing.com

Brooklyn cybersquatter must pay presidential hopeful $32,000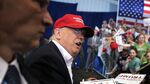 Donald Trump on Wednesday blamed China for an economic assault on American jobs and wealth. On Thursday, he became the undeniable owner of the trumpbeijing.com domain name.
That name and three others like it rightfully belong to Trump, a federal appeals court said in upholding a ruling that Trump can reclaim them from the Brooklyn website developer who registered them. Whether the Republican presidential front-runner, whose foreign policy is built around the notion of "America first," ever plans to make use of the domains is unclear. But there's no doubt that he's now in charge of them.
J. Taikwok Yung registered the trumpbeijing.com domain in 2007 -- along with trumpindia.com, trumpmumbai.com and trumpabudhabi.com -- after Trump's company announced plans for Trump-branded hotels and condominiums in Mumbai and Bangalore, India, according to court papers. Yung rejected demands by Trump's lawyers to turn over the domains, including an offer to pay him $100 for each one.
Yung filed, and lost, claims in the World Intellectual Property Organization and in Brooklyn federal court seeking to confirm his ownership of the domains. Trump wanted $400,000 in damages from Yung. U.S. District Judge Dora Irazarry ruled in 2014 that Yung had illegally exploited the trademarks and ordered him to turn over the domains and pay $32,000. The U.S. Court of Appeals in Manhattan upheld her decision.
Court Order
"The TRUMP mark was distinctive at the time Yung acquired the infringing domain names," the court said in a three-page order. "Yung had a bad-faith intent to profit from the TRUMP mark."
Yung, who isn't represented by a lawyer in the case, described himself in court papers as "a major award-winning web/mobile developer" who used the domains as "a mainly fan parody content." A judge in 2014 called him a cybersquatting "repeat offender" who owned almost 200 domain names, "many of which are obvious appropriations of well-known brands."
Yung claimed that his domain names are protected by the First Amendment and that he didn't intend them for commercial use. He also argued that Trump has "no intellectual-property rights to the dictionary word 'trump.'"
The Yung suit is one of more than 1,300 court cases involving Trump and his companies filed since 2000.
"We are delighted with the Second Circuit's decision," Alan Garten, general counsel of the Trump Organization, said in an e-mail. "We will continue to vigorously protect our intellectual property rights and pursue those who infringe upon our valuable brand."
Yung didn't return a phone message seeking comment on the ruling. In an earlier case, Yung was ordered to take down bofaml.com and mlbofa.com, which he had registered on the same day Bank of America Corp. and Merrill Lynch & Co. announced their merger in 2008.
On Wednesday, Trump said in a foreign policy speech that "America first will be the major and overriding theme of my administration" and criticized America's "massive trade deficit with China."
The case is Yung v. Trump, 14-1554, U.S. Court of Appeals for the Second Circuit (Manhattan).