This Home May Show That People Are Still Seeing Red Over the Housing Collapse
by and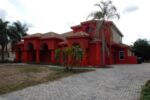 The nation's housing markets may be finally getting over the foreclosure crisis, but for many Americans the anger hasn't subsided.
Take a look at this recent home sale in Florida. It may be the perfect encapsulation of the fury felt by some of the more than 5 million Americans served with a foreclosure notice after the housing bubble burst.
This five-bed, four-bath Florida home in the Lake Cypress Cove suburb of Orlando was valued at $2.7 million back in 2006. We all know what happened next—the collapse in U.S. home prices sent millions of Americans into foreclosure and sparked a Great Recession.

The house sold last month for $433,000 after being delinquent for seven years. The 84 percent slump in value wasn't just because of the post-bubble collapse in housing prices. The home had been trashed and graffiti'd—this one painted crimson-red on the outside and dungeon-black on the inside. A spray-painted smiling face of a devil now looms over the back of the pool house.
One possibility is that the tenant, who was able to finance the home with the help of Wall Street, may have left a parting gift—trashing the place—according to Webbs Hill, a real estate advisory
"At first glance you would think this property was damaged by a fire. On closer inspection, it appears it may be vandalism caused by either the evicted homeowner, tenant or squatter. We just can't imagine how and why the outside turned red and the inside turned black," reads a post-sale property report prepared by data and analytics firm Webbs Hill Advisors LLC.
"The picture on the back of the pool enclosure suggests the choice of paint colors may have been a parting gift to the servicer taking this property," Webbs Hill added.
The investor that financed the mortgage lost out too. The loan on the home, which was bundled into a mortgage-backed security sold by a Residential Capital LLC affiliate in 2006, was one of many that went into default. Whoever held this bond lost $2.1 million from their investment, according to remittance data gathered by Webbs Hill.

Around 631,000 properties nationwide are still in active foreclosure, according to data from Black Knight Financial Services.
That's down significantly from the height of the housing crisis, when more than 5 million borrowers received notices and another 6 million-plus had their loans modified to better their chance of being able to repay.
A back-of-the-envelope sketch says all you need to know when you consider the 40 million home loans estimated to have been made between 2005 and 2007: pre-crisis underwriting produced over 11 million shoddy mortgages, implying that nearly one-quarter of all of the home mortgages made after 2005 went bad.
Before it's here, it's on the Bloomberg Terminal.
LEARN MORE