Take the Buffett Quiz: Do You Really Know Warren's World?
by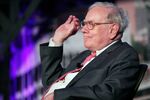 Six hours of fielding investor questions may sound like torture, but for Warren Buffett, it's all in a day's work at Berkshire Hathaway's annual meeting. 
Sure, lots of us recognize the trademarks of Warren's World—the cherry coke, the See's Candies, the Geico gecko. But staying on top of a decentralized $360 billion company is something else entirely. It's a challenge fit for, well, Warren Buffett.
Luckily, while Berkshire has a fascinating—and fascinatingly lucrative—business, few can really hold forth on, say, super-cat reinsurance policies. So here is a little test to see how much you know about this icon of corporate America and the company he built. Get enough of these 12 questions right, and you will definitely be a superstar at the next office party.
Before it's here, it's on the Bloomberg Terminal.
LEARN MORE