Potash Corp. Cuts '16 Profit Forecast on Fertilizer Slump
by and
Earnings excluded one-time items projected at 60c-80c a share

`Timing, strength of recovery is still unfolding,' CEO says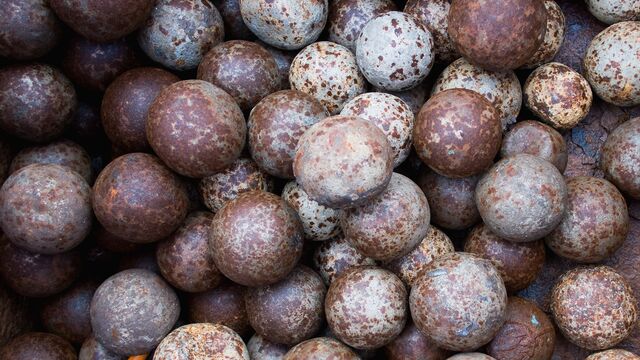 Potash Corp., the world's second-largest producer of its namesake fertilizer, cut its full-year profit forecast after crop-nutrient prices declined and China delayed signing key supply contracts.
Profit excluding one-time items will be 60 cents to 80 cents a share in 2016, the Saskatoon, Saskatchewan-based company said Thursday in a statement. That compared with the January forecast of 90 cents to $1.20 and the 91-cent average of analysts' estimates compiled by Bloomberg. . The forecast for potash production also was reduced. The shares tumbled as much as 7.2 percent in New York.

Potash Corp. posted adjusted first-quarter profit of 15 cents a share, trailing the 16 cents forecast by analysts. The delay in supply contracts with China, limited demand in India and "cautious buying patterns in spot markets" undercut the quarter's potash deliveries, the company said.
"Although we had expected a reduced guidance range due to weaker potash-market fundamentals, we were surprised by the magnitude of the guidance reduction," Andrew Wong, a RBC Capital Markets analyst in Toronto, who rates the stock "sector perform," said in a note. "The first-quarter average realized sales price was well below our expectations, and we think this will translate through the rest of the year."
Potash Corp. fell 3.4 percent to $17.61 in New York. The stock has slumped 47 percent in the past 12 months.
'Muted' Markets
Global phosphate markets were "muted" amid high inventories in India and slack buying in Brazil, the company said. The average potash price realized by the company fell to $178 a ton in first quarter from $284 a year earlier.
"Lower prices for all nutrients weighed on our performance for the quarter and contributed to a more subdued outlook for the year," Chief Executive Officer Jochen Tilk said in the statement. "We see better conditions for the remainder of 2016, but recognize that the timing and strength of a recovery is still unfolding."
Buyers in China, the largest potash consumer, seem unwilling to enter into contract discussions until existing, higher-priced inventories are sold off, Morgan Stanley analyst Vincent Andrews said in a note last month. The annual supply accord is closely watched by the global market because it includes a fixed price that other countries use as a floor for their own negotiations.
Spot prices for potash have tumbled in the past year amid a slump in agricultural commodities. The crop-nutrient is used by farmers to strengthen plant roots and boost drought resistance. The company is reducing production of potash and lowered the forecast for annual sales volume to 8.3 million to 8.8 million metric tons.
Net income in the first quarter dropped to 9 cents a share from 44 cents a year earlier.
First-quarter sales dropped to $1.21 billion from $1.67 billion, exceeding the $1.1 billion average estimate by analysts.
The 2016 capital-expenditure forecast was cut by about $100 million.
Second-quarter profit will be 15 cents to 25 cents a share, compared with the average of 27 cent forecast by analysts.
Before it's here, it's on the Bloomberg Terminal.
LEARN MORE