Nazi Controversy Engulfs Labour Days Before U.K.-Wide Votes
by and
Deputy leader Watson pledges to tackle racism in the party

Newspaper headlines dominated by party's `civil war'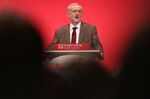 A week before nationwide elections in the U.K., opposition Labour leader Jeremy Corbyn found himself fighting off a crisis over anti-Semitism that threatens to engulf his party and thrust it further into the political wilderness.
Lawmakers calling for months for Corbyn to confront racism against Jews exploded after one of his closest allies, former London Mayor Ken Livingstone, described Adolf Hitler as a supporter of Zionism in a series of broadcast interviews. 
While Livingstone was later suspended, many within Labour said the leader had to go much further if he wanted to deal with the increasing discomfort many voters felt about the party. Front-page newspaper headlines on Friday morning spelled out the depth of the party's divisions, with the Labour-supporting Daily Mirror and pro-Tory Daily Mail splashing on its "civil war," while the Times and Telegraph focused on Livingstone's Nazi remarks.
"I don't know how many more times we can point out to the Labour leadership that there is a significant problem with anti-Semitism within our ranks," Wes Streeting, a Labour lawmaker who represents an east London district, said in an interview. "This problem predates the Jeremy Corbyn leadership, but he has got to accept that he's the leader. We can work together to tackle the problem, and we have to if we're going to avoid long-term reputational damage."
With days to go before local-government and legislative-assembly votes across the country, including for the London mayoralty, voters were treated to the sight of Livingstone being chased up a flight of stairs by Labour lawmaker John Mann, who accused him of "rewriting history" and of being a "disgusting Nazi apologist." Livingstone later hid in a toilet, while journalists outside shouted questions asking for his views on Hitler.
The controversy also comes less than two months before Britons decide whether to stay in the European Union, with polls showing the outcome of the June 23 referendum remains hard to call. Corbyn is backing Prime Minister David Cameron's bid to keep Britain in the bloc.
Labour home-affairs spokesman Andy Burnham told BBC Television on Thursday evening that the party has acted too slowly to remove activists found making anti-Semitic comments. Deputy leader Tom Watson appeared on BBC Radio 4's "Today" show on Friday to condemn Livingstone's comments as "vile, offensive and crass" and pledged to "get a grip" on racism in the party. Corbyn "could not have acted any quicker" on Livingstone, he said.
'Deep Offense'
"To link Hitler and Zionism in the way he did must have been done to create offense," Watson said. "Ken Livingstone's behavior yesterday has let down the Labour Party, let down those thousands of candidates standing in elections next Thursday, and caused deep offense in particular to the Jewish community in Britain but also to people out there who expect the Labour Party to adhere to higher standards."
The controversy may affect local-election results in areas with large Jewish communities, such as north London, according to Andrew Hawkins, chairman of pollster ComRes.
The statement announcing Livingstone's suspension said Mann would also be disciplined. Corbyn told the BBC he was "obviously very sad" to have had to take action against Livingstone, his friend. He denied the party faces a serious issue. "It's not a crisis," he said. "There's no crisis." Criticism is coming "from those who are nervous of the strength of the Labour Party at a local level."
'Caught Up'
To Streeting, this response reflects a reluctance to confront anti-Semitism because of anger within Labour about Israeli policy toward Palestinians.
"Anti-Semitism gets caught up with the issue of Israel," he said. "There are some people who believe that complaints about anti-Semitism are attempts to silence critics of Israel. That's nonsense. You only have to visit Israel to hear criticism of Israel. What you do get is people casually using language that's anti-Semitic when raising concerns about Palestinian human rights."
The Labour leadership suspended a local councilor earlier this month after she posted a message on Twitter praising Hitler and urging Iran to "wipe Israel off the map." It followed other anti-Semitic statements by activists and the resignation of Oxford University Labour Club Chairman Alex Chalmers, who said in a post on Facebook that a large proportion of members "have some kind of problem with Jews."
Labour 'Problem'
Those words were echoed on Thursday by Cameron, who told an audience in eastern England that it's clear Labour "has a problem with anti-Semitism." As a longstanding critic of Israeli policy toward the Palestinians, Corbyn has found it difficult to distance himself from the latest dispute.
Corbyn has faced a series of challenges since succeeding Ed Miliband to become Labour's most socialist leader in at least three decades in September. While he received overwhelming support from party members, less than 10 percent of Labour lawmakers voted for him, and they have clashed over nuclear weapons, welfare cuts and the direction of economic policy. 
Tim Bale, professor of politics at Queen Mary, University of London, said Corbyn's response this week may push disgruntled Labour members of Parliament to move against him.
'Out of Control'
"This isn't the first 'Just when you think it couldn't get any worse' moment for Jeremy Corbyn's Labour Party," he said. "But if things continue to career completely out of control, there's now a chance that it could end up being the last. There's surely only so much that Labour MPs can take before they try to grab the steering wheel, or else jump out of the car, before it disappears over the cliff for good."
Livingstone described Hitler as a supporter of Zionism as part of his defense of lawmaker Naz Shah, who was herself suspended from the party in the House of Commons on Wednesday for posts suggesting Israelis should be transported to the U.S.  
"Hitler's policy when he first came to power was to move Germany's Jews to Israel," Livingstone told BBC Television's "Daily Politics" program. "That's a historical fact."
Livingstone said that Shah, a Muslim who represents Bradford West in northern England, had been the victim of a witch hunt. While her comments, made before her election to Parliament in 2015 , were "over the top," and "incredibly rude," she is not anti-Semitic and has the right to criticize Israel, he said. Shah described her own comments as anti-Semitic and apologized on Wednesday.
Livingstone, 70, was expelled from Labour in 2000 after he said he would stand as an independent against Frank Dobson, the official party candidate, in the race to become the first elected mayor of London. Livingstone won and was allowed to rejoin the party, retaining the post in the 2004 election. He was then twice defeated by Boris Johnson from the Conservative Party.
Before it's here, it's on the Bloomberg Terminal.
LEARN MORE