Markets Get the Worst Kind of Kuroda Surprise as BOJ Stands Pat
by , , and
Yen strengthens, Topix slides in Tokyo after decision

BOJ maintains policy even after consumer prices fell in March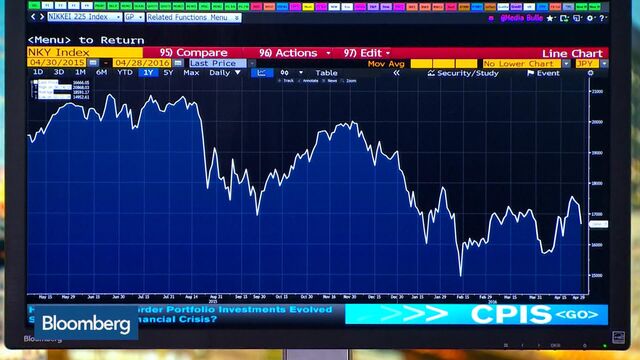 Haruhiko Kuroda hasn't lost his power to jolt markets: but now he's moving them by doing nothing.
The yen soared the most in eight months and stocks sank in Tokyo on Thursday as the Bank of Japan Governor held off from adding to the central bank's bond-buying program or its budget for exchange-traded equity funds. The move confounded economists, a slight majority of whom had expected extra easing, and investors, who'd pushed the Topix index higher and the yen toward a one-month low in the hours before the decision.
"I'm very disappointed. I wanted the BOJ to do something and the BOJ should have done something," said Masaru Hamasaki, head of the investment information department at Amundi Japan Ltd. "Kuroda has created mostly positive surprises so far, but this time it's negative. The BOJ hasn't been on the same wavelength as markets this year."

Of course, Kuroda's inaction doesn't just matter to investors. Japan's economy is struggling to break out of a funk, with consumer prices dropping in March by the most since 2013 and company profits getting hurt by the stronger yen. In refraining from adding to stimulus, officials are betting that their success in bringing down borrowing costs since unveiling a negative-rate policy in January will generate an acceleration in lending.
"There's typically a lag in terms of response to that sort of easing," said Cameron Duncan, Sydney-based co-head of income strategies at Shaw and Partners, which manages about A$10 billion ($7.6 billion). "It's the Bank of Japan and they're pretty conservative and they are still waiting to see what the impact of that is."
Investors' Ally
For most of his term, Kuroda has been a friend to buyers of Japanese equities and to those betting on a weaker yen. The Topix has rallied 33 percent since he unveiled the bond-buying program nicknamed the bazooka in April 2013, and the nation's currency has weakened 15 percent.
Thursday's meeting was the first under Kuroda where a majority of economists forecast additional easing that didn't materialize, according to data compiled by Bloomberg. Economists didn't expect him to add to easing in October 2014, a move that drove the Topix up 4.3 percent that day, nor to unveil negative rates in January.
The benchmark stock gauge slumped 3.2 percent at the close in Tokyo today, erasing a 1.5 percent gain, and the yen jumped 2.6 percent to 108.61 per dollar.
Hope Strategy
"Quite a few people have been wrong-footed by this," said Andrew Clarke, Hong Kong-based director of trading at Mirabaud Asia Ltd. "Guessing what governments do next at this moment in time is not a good way to play these markets. Hoping that there will be more stimulus will lead to disappointment, because hope isn't a very good strategy."
Japan's equity market is closed Friday and May 3-5 for holidays, encouraging investors to reduce holdings Thursday while they could, Clarke said.
The surprise is, in one way, in keeping with past practice, when Kuroda has opted to give time to see the effects of his actions. His unprecedented stimulus has helped to support bank lending, which has reached its highest level since 2002.
"The market was getting ahead of itself," said Nobuyuki Kashihara, who helps oversee $39 billion at Mizuho Asset Management Co. in Tokyo. "Monetary policy takes time to have an effect on the actual economy, and it was too early to add to easing."
Before it's here, it's on the Bloomberg Terminal.
LEARN MORE