Ex-London Mayor Livingstone Suspended by Labour Party in Antisemitism Row
by and
Livingstone defended lawmaker over social-media postings

Labour Party acts ahead of elections across U.K. in one week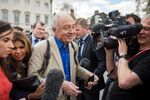 Former London Mayor Ken Livingstone was suspended from the U.K.'s main opposition Labour Party after he defended a lawmaker whose membership was put on hold over anti-Semitic postings on social media.
Livingstone described Hitler as a supporter of Zionism as part of his defense of lawmaker Naz Shah, who was thrown out of the party in the House of Commons on Wednesday for posts suggesting Israelis should be transported to the U.S.
"He's like a political arsonist pouring petrol on the flames," said Wes Streeting, a Labour lawmaker who has been pressing for party's leadership to tackle racism against Jews. "We are a week away from crucial elections up and down the country, and we have a senior party member on the airwaves dragging up a bizarre debate."
Livingstone was being interviewed about Shah for BBC Radio London on Wednesday when he started talking about Hitler's support for Zionism in the early 1930s.
"Hitler's policy when he first came to power was to move Germany's Jews to Israel," Livingstone told BBC Television's "Daily Politics" program on Thursday as he defended his comments. "That's a historical fact."
Corbyn Test
The controversy has distracted attention from Labour's campaign for a series of elections across the country on May 5, the first such test under new leader Jeremy Corbyn. The party is seeking to minimize seat losses in voting for local councils in England and the legislative assemblies in Wales and Scotland amid a fall in support, though it's the favorite to win the mayoral contest in London.
"Ken Livingstone has been suspended by the Labour Party, pending an investigation, for bringing the party into disrepute," Labour said in an e-mailed statement. Another Commons lawmaker, John Mann, who accused Livingstone in a televised confrontation of being a "Nazi apologist," has also been called before party officials to explain his actions.
Livingstone said in a series of media appearances Thursday that Shah, a Muslim who represents Bradford West in northern England in the House of Commons, had been the victim of a witch hunt. While her comments, made before her election to Parliament in 2015, were "over the top," and "incredibly rude," she is not anti-Semitic and has the right to criticize Israel, Livingstone said.
"We can't confuse criticism of the government of Israel with anti-Semitism," Livingstone said. "If they find any evidence that she's anti-Semitic she'll be expelled from the party, but I don't think they will."
'Like Racism'
Prime Minister David Cameron said it's clear Labour "has a problem with anti-Semitism."
"They've got to recognize that anti-Semitism is like racism, it's unacceptable in a modern political party and every party facing this problem has got to deal with it," Cameron told an audience at an event in Peterborough, eastern England.
Sadiq Khan, Labour's candidate for London mayor and a Muslim, called for Livingstone to be thrown out of the party, as did Chris Bryant, the shadow leader of the House of Commons.
"If you are Jewish, and you watch those interviews, how can you be expected to feel about Labour?" Rob Ford, professor of politics at Manchester University, said in an interview. "The party has to ask itself what it could possibly do to make its claim that it's serious about tackling anti-Semitism credible. They've got a very serious credibility problem here."
Livingstone, 70, was expelled from Labour in 2000 after he said he would stand as an independent against Frank Dobson, the official party candidate, in the race to become the first elected mayor of London. Livingstone won and was allowed to rejoin the party, retaining the post in the 2004 election. He was then twice defeated by Boris Johnson from the Conservative Party in 2008 and 2012.
Before it's here, it's on the Bloomberg Terminal.
LEARN MORE