LinkedIn Rises as Earnings Beat Estimates Buoyed by Mobile App
by
First-quarter revenue from main recruiting business climbs 41%

Redesigned mobile apps increase usage of professional network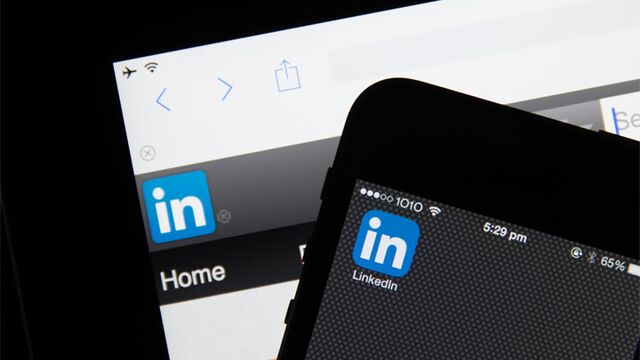 LinkedIn Corp. surged as much as 6.5 percent Friday morning after forecasting earnings that beat estimates on improved performance from its main recruiting tools and a new mobile app, suggesting a surprise slowdown earlier this year was not as dire as analysts feared.
The operator of the largest online professional network said second-quarter profit, excluding some items, will be from 74 cents to 77 cents a share. That beat the 71-cent average analyst estimate.
First-quarter earnings topped expectations by a wide margin and the company raised its full-year revenue guidance to $3.65 billion to $3.70 billion, from an earlier range of $3.6 billion to $3.65 billion.  
The company said a redesign of its mobile apps encouraged people to spend more time on the service. 
"We were able to focus on fewer things done better" Chief Executive Officer Jeff Weiner said in an interview on Bloomberg Television Friday. "We saw the consumer engagement accelerate by virtue of a new application we launched, a mobile application."
The shares rose 2.5 percent to $126.14 at 10:57 a.m. in New York. The stock was down 45 percent this year through Thursday.
Earlier this year, LinkedIn said it miscalculated some strategic moves and that the company would grow more slowly than expected, forcing some analysts to reconsider their positive opinions on the stock. That cut its market value almost in half and the shares had not recovered much.
First-quarter revenue from its Talent Solutions business, the company's main moneymaker, rose 41 percent to $558 million as the company sought out large corporate customers that pay to track down potential job candidates. The company said this recruiting service can generate billions more by wooing new clients in markets like health care and staffing.
"It was a good quarter with demand picking back up with recruiters and advertisers," said James Cakmak, an analyst with Monness Crespi Hardt & Co.
LinkedIn also saw a record number of job seekers on its service, up 50 percent from the same period a year earlier. The company plans new offerings, such as salary data, to keep that number growing. It wants to give recruiting customers information on "confirmed hires" to prove their spending on the professional network is producing track-able results.
The company makes 39 percent of its revenue from sales outside the U.S., and it's a rare American social network operating in China. The company said it has 20 million users in the country, up from 10 million in July. That excludes users of a local-language app it created called Chitu.
"We started by localizing the global platform, and we have seen strong growth in terms of new members," Weiner said, referring to LinkedIn's presence in China. "As we continue to grow membership, we are increasingly turning attention to engagements. Once that reaches critical mass, we will focus on modernization."
Earnings, excluding some items, were 74 cents per share in the first quarter, compared with the 60 cents analysts estimated.
Before it's here, it's on the Bloomberg Terminal.
LEARN MORE