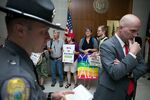 In early March, Salesforce.com dispatched its general counsel, Amy Weaver, and its top government affairs executive, Jim Green, to Georgia to lobby against a bill that would have given businesses the right to deny service to lesbian, gay, bisexual, or transgender customers on religious grounds. Like other so-called religious freedom bills, the Georgia legislation was designed to offer a legal shield for social conservatives. Georgia Governor Nathan Deal wound up vetoing the bill, but Green knew the win in Atlanta would be temporary.
Almost 200 bills have been proposed this year in more than 30 states that would limit or prohibit protection against discrimination for LGBT individuals, according to the advocacy group Human Rights Campaign (HRC). Five have passed into law; three have been vetoed; and 144 have died or been withdrawn. "We were like, 'Whoa,' and started to realize the scope of the issue," Green says.
In response, large companies that have already contributed millions of dollars to HRC and other advocacy groups to combat anti-LGBT discrimination have been taking steps to coordinate their lobbying activities. "There's going to be an increasing level of cooperation among companies," says Kevin Kolevar, vice president for government affairs and public policy at Dow Chemical, who's been involved in discussions with his counterparts at other corporations. "It's a strengthening collaboration, but loose. You're going to start to see the corporate community refining those efforts quite a bit, and it's going to make more of a difference than it has."
Corporate leaders say they're primarily motivated not by politics but by business concerns. They need to protect their own employees, create work environments attractive to younger workers, and eliminate the headache of dealing with a patchwork of differing rules for LGBT workers across the country. Companies that support gay employees do better in the stock market, according to research released on April 15 by Credit Suisse. The study found that a group of 270 companies that supported LGBT employees outperformed a global index by 3 percent annually over the past six years.

The power of the business lobby on LGBT issues attracted attention last year after Indiana proposed legislation that would have allowed private businesses to deny service to gay people for religious reasons. "We frankly weren't aware of it before our employees brought it to our attention," says Salesforce's Green. Over a period of several weeks, Green flew from San Francisco to Indianapolis to pressure legislators, without success. After the bill was signed by Republican Governor Mike Pence, Green says, "that's when we became very active."
The bill was ultimately amended in response to the corporate outcry from Salesforce and others. Pharmaceutical giant Eli Lilly, which has about 25 percent of its employees in the state, made contributions to Freedom Indiana, an advocacy group supported by HRC, and to Indiana Competes, a coalition of more than 350 mostly small employers opposed to anti-LGBT laws.
Most companies are focusing their efforts on states where they have major operations, allowing them to divide the work. Salesforce and Eli Lilly were joined in Indiana by Dow Chemical; its AgroSciences seed and pesticide subsidiary is based in Indianapolis. Disney helped lead efforts in Georgia, where the company and its Marvel Entertainment subsidiary shoot movies. MGM Resorts is helping spearhead opposition to a bill signed into law on April 5 in Mississippi, where the company has two casinos. MGM told state officials the law would increase discrimination and harm tourism and the economy.
Apple and Facebook, which have data centers in North Carolina, teamed up with Bank of America and others to pressure Republican Governor Pat McCrory to undo the "bathroom bill" he signed in late March. PayPal executives convened to review the law and discuss its implications on the day it passed, fearing it could hurt the company's ability to recruit talented workers. Chief Executive Officer Dan Schulman decided to hold off on plans for a $3.6 million operations center, which would employ 400 people, until the law is repealed. On April 12, McCrory signed an executive order partially rolling it back. State Democratic lawmakers filed a measure on April 25 to repeal it entirely, but it's unlikely to proceed in the Republican-controlled legislature.
Some companies are pushing to extend civil LGBT protections, rather than reacting to efforts to curtail them. Hershey spokeswoman Jennifer Sniderman says the chocolate maker has been active in encouraging lawmakers in its home state of Pennsylvania to pass proposed legislation expanding the umbrella of existing anti-discrimination laws.
Setting up an effective state-level lobbying operation costs from $25,000 to $100,000, including staff expenses and support for local grass-roots groups, says Matt McTighe, a veteran of fights for same-sex marriage across the country who's now executive director of Freedom For All Americans, which helps organize companies and local groups. "We can't keep playing whack-a-mole every time some new anti-LGBT bill gets filed," he says.
HRC also coordinates letter-writing campaigns and local rallies on behalf of large corporations. The group raised almost $54 million in the fiscal year ended March 2015; it doesn't disclose details on individual contributions, but Apple, Bank of America, Microsoft, and Starbucks are among more than 40 companies it lists as corporate sponsors. (Bloomberg LP, the owner of Bloomberg Businessweek, is also an HRC sponsor; company Chairman Peter Grauer has signed letters opposing religious freedom laws in North Carolina, Missouri, and Mississippi.) In an April 17 appearance on NBC's Meet the Press, North Carolina's McCrory acknowledged the influence of HRC's corporate donors: "They are putting on a lot of pressure."
Proponents of religious freedom measures say they're representing the interests of small-business owners who don't want to be forced to accommodate LGBT clients. Matt Sharp, legal counsel for the nonprofit legal advice group Alliance Defending Freedom, has visited Georgia, Mississippi, North Carolina, and South Carolina this year, consulting with small businesses that serve gay people but want the right to draw the line at participating in same-sex weddings.
"We don't want to be forced by the government to produce speech, to produce expression, uniquely designed floral arrangements, cakes, and photographs that violate our faith," Sharp says. The group raised $45 million in the fiscal year ended June 2014, according to its most recent publicly available tax filings; like HRC, it's not required to disclose its donors.
Salesforce's Green says one goal of the lobbying undertaken by his company and other large employers is to make it easier for small businesses to speak out against potentially discriminatory bills. Part of the strategy developed by McTighe, inspired in part by same-sex marriage initiatives, involves using funds donated by big corporations to get local employers involved. Hundreds of smaller companies in Tennessee and Mississippi signed recent letters opposed to anti-LGBT laws, as did local employers in Indiana last year. "Equality is a core value, and where we see negative legislation, we have to take a stand," Green says. "We want to be a spark for others to get involved in areas and states that are considering these types of legislation."
—With Craig Giammona and Spencer Soper
The bottom line: Some large U.S. corporations are banding together to combat state laws that would block civil LGBT protections.
Before it's here, it's on the Bloomberg Terminal.
LEARN MORE