Goldman's Army of VPs Draws Scrutiny in Aleynikov Fee Fight
by
Delaware judge's ruling could extend legal fees to thousands

`It was a big deal,' Sergey Aleynikov says of his Goldman job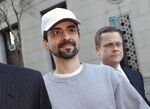 Not all 13,000 Goldman Sachs Group Inc. vice presidents are created equal.
Almost seven years after the firm alerted prosecutors to what it said was a potentially devastating theft of its trading code, Goldman Sachs is in court fighting a request by ex-vice president Sergey Aleynikov to have the bank pay legal fees stemming from his arrest.
Goldman Sachs says Aleynikov, whose saga helped inspire Michael Lewis's book "Flash Boys," was a VP in name only and isn't entitled to perks for true corporate officers, such as covering lawyers' bills. Aleynikov's attorneys say corporate titles carry their own weight and can't be devalued at the bank's whim.
In the latest courtroom brawl between Goldman Sachs and the twice-vindicated Aleynikov, Delaware Chancery Court Judge Travis Laster on Thursday began parsing the firm's bylaws to decide if the bank can pick and choose who deserves corporate-officer status. Laster reserved his ruling at the end of the one-day trial.
Tough Case
A win for Goldman Sachs would mean Aleynikov must pay his own legal fees, estimated in a newly unsealed bank filing at $7 million. A loss could have implications for all Goldman Sachs's vice presidents, requiring the firm to cover fees if they're accused of wrongdoing, said Charles Elson, director of the University of Delaware's John L. Weinberg Center for Corporate Governance. 
"It's a tough case for Goldman to make because titles still mean something in the corporate world," he said. "The vice president's tag says that this person has authority to act on the company's behalf." 
The Delaware ruling likely won't have ramifications for other banks because "all companies' bylaws are different," said Robert Miller, a University of Iowa law professor. "I don't think it's the norm, however, that vice presidents fall into the class of executives who have indemnity rights."
Michael DuVally, a spokesman for the New York-based bank, declined to comment on the case.
Goldman's Defense
While many of the bank's filings are sealed in Delaware, a legal brief made public on Thursday said that Aleynikov has paid his lawyers only $547,960 of his $7 million bill to date.
Goldman Sachs acknowledged in the brief, initially filed on April 20, that it has sometimes paid legal fees for a "broad array of employees, including employees with associate and analyst titles."
"A vice president title has never been understood to confer officer status in the investment banking industry, where it is bestowed on tens of thousands of mid-level employees," according to the filing.
Aleynikov's lawyers have argued that Goldman Sachs has paid the legal fees of 51 of 53 employees who requested it, including 15 who were vice presidents. Among them was Fabrice Tourre, an ex-vice president nicknamed "the Fabulous Fab" who was found liable in 2013 for defrauding investors in deals involving mortgage-backed securities.
Title Inflation
The bank's lawyers are seeking to convince Laster that Wall Street firms have handed out vice presidencies freely, Aleynikov's lawyers wrote in a summary of testimony by Goldman Sachs's expert. That practice has served to devalue the title and created higher standards for corporate-officer status, according to the summary.
Goldman Sachs's many vice presidents are the "result of title inflation," and only a handful of senior executives qualify as corporate officers, the bank's expert said, according to the summary.
"There's definitely something to the idea that being promoted to vice president doesn't mean what it did 20 years ago," said Paul Sorbera, president of Alliance Consulting, a Wall Street headhunting firm. "The position doesn't carry the level of responsibility it once did."
Legal experts are split on who qualifies as an officer.
'Savvy Enough'
Within banks, vice president titles are typically given to mid-level employees. They're more senior than new college grads who are deemed "analysts" or MBA graduates known as "associates," but lower-ranking than managing directors or, in Goldman Sachs's case, the most-senior level of partners.
Bylaws adopted by many banks and companies confer officer status on executives at the vice-president level, said Larry Hamermesh, a Widener University law professor who has discussed the case with Aleynikov's lawyers. But Miller said vice presidents are considered junior executives who don't get indemnity rights until they rise to the rank of managing director.
"Judges in Delaware are savvy enough to know that being a vice president in the corporate world is not that big a deal and certainly doesn't entitle one to the rights of senior executives," he said.
'Great Accomplishment'
Aleynikov testified for about 90 minutes on Thursday. "I was very excited," Aleynikov said on the witness stand about his 2007 hiring to develop code. "It was a big deal to me to become an officer of a prestigious investment bank. It was a great accomplishment."
"I was given the title of VP," he added. "That indicated to me that I was an officer."
While only $550,000 in legal fees and the question of officer status are at stake in the Delaware proceeding, Laster's ruling will affect the outcome of Aleynikov's lawsuit in New Jersey, where he sought fees after he was cleared of federal charges.
A judge there ordered Goldman Sachs to pay $2.3 million in Aleynikov's legal bills, a ruling later overturned by an appeals court that said ambiguity in the firm's bylaws must be decided under the law in Delaware, where the bank is incorporated. Goldman Sachs has countersued in New Jersey claiming Aleynikov breached his duty by "misappropriating" code.
Legal Woes
A Russian immigrant, Aleynikov remained a VP until leaving in mid-2009 to join Teza Technologies LLC, and was arrested later that year. His lawyers said the programmer didn't pilfer the intellectual property while transferring so-called open source code to a personal e-mail account.
A federal jury convicted Aleynikov in 2010 and he was sentenced to eight years in prison. He served about a year before an appeals court reversed his conviction. New York state prosecutors then charged him with stealing intellectual property, a judge tossed out the guilty verdict, and prosecutors are appealing.
Aleynikov has acknowledged he was "an officer by virtue of his title, not his job responsibilities," Goldman Sachs said in court papers.
It doesn't matter what Aleynikov's responsibilities were, his lawyers argued. Under Goldman Sachs's bylaws, "those who hold the title of vice president are undeniably within" the circle of executives entitled to indemnification, they said in a filing.
"The elegant simplicity of Aleynikov's argument" is "that he was given an officer's title and now must be treated as such," they said.
Before it's here, it's on the Bloomberg Terminal.
LEARN MORE