Five Things You Need to Know to Start Your Day
Get caught up on what's moving markets.
by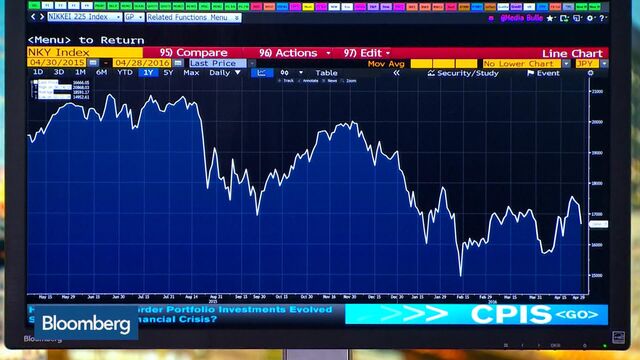 Want to receive this post in your inbox every morning? Sign up here
The Bank of Japan shocks traders by doing nothing, Deutsche Bank profits beat expectations, and U.S. GDP is on tap. Here are some of the things people in markets are talking about today.
The BoJ does nothing
The Japanese central bank surprised the market overnight by doing nothing. Most economists surveyed by Bloomberg had expected more easing from the Bank of Japan in response to the strengthening yen, but Governor Haruhiko Kuroda has decided to wait to gauge the effect of negative interest rates before further action. The yen, which had been weakening as easing expectations rose, surged higher following the bank's announcement and was trading at 108.20 to the dollar at 5:28 a.m. ET, having traded at 111.68 ahead of the announcement. Stocks were also hit, with the Topix index dropping 3.2 percent. Yesterday the Federal Reserve kept policy unchanged, while the Bank of New Zealand also did nothing new. 
Deutsche Bank earnings beat
Shares in Deutsche Bank were trading 4.25 percent higher at 5:29 a.m. ET after the bank announced a surprise profit for the first quarter of 2016. The bottom line was driven by falling legal expenses and a better than expected performance from the bank's trading business. Deutsche Bank Co-Chief Executive Officer John Cryan warned that the bank still has an awful lot to do this year to finish the restructuring of its operations, implying the lender is not out of the woods yet. Elsewhere in Germany, Volkswagen AG's namesake car brand slumped to a fourth-quarter loss of €127 million ($144 million) as the emissions-cheating scandal tarnished its reputation and added to costs.
Facebook beats, slew of earnings due
Facebook Inc. escaped the tech rout this earnings season as its first-quarter results blew past analyst expectations. Shares in the social-media company, which seemingly can do no wrong at the moment, are 8.6 percent higher in premarket trading. Among companies on the slate for earnings today are LinkedIn Corp., Time Warner Cable Inc., Amazon.com Inc., Dow Chemical Company, and Ford Motor Company.
Stocks are lower
Overnight in Asia the MSCI Asia Pacific Index declined 0.2 percent with losses led by Japanese markets. Asia's two biggest markets, Japan's Topix index and China's Shanghai Composite Index (which have a combined value of almost $11 trillion) are vying for the ignominious prize of being the world's worst performing of 2016. In Europe, the Stoxx 600 Index was 1.7 percent lower at 5:55 a.m. ET as banks - with the clear exception of Deutsche Bank - tumbled following disappointing earnings. S&P 500 futures were 0.8 percent lower.
U.S. GDP
The Commerce Department is due to release its first estimate of U.S. first-quarter growth at 8:30 a.m. in Washington this morning. Expectations are for annualized 0.6 percent growth in the January-March period, which would be the economy's third successive awful start to the year. Initial jobless claims data, also due at 8:30 a.m., will be worth watching as the recent numbers there have been setting lows not seen since the early 1970s.
What we've been reading 
This is what's caught our eye over the last 24 hours.
Before it's here, it's on the Bloomberg Terminal.
LEARN MORE