FCC Chief Wheeler Enrages Cable Industry He Once Lobbied For
By
Agency's Wheeler seen clashing with wireless, cable providers

FCC to vote on advancing rules cable industry opposes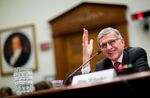 If the cable industry were Hollywood boxer Rocky Balboa, it would be getting pummeled by its former trainer.
Or so suggests Rich Greenfield, a telecom analyst with BTIG LLC in New York. He tweeted a clip this week showing a sweat-spraying punch slamming into Rocky, standing in for an industry taking a beating from U.S. Federal Communications Commission Chairman Tom Wheeler -- who once headed wireless and cable trade groups.
Greenfield offers a bill of particulars, including Thursday's FCC vote to move toward bringing fresh regulation to business data lines. Also cited: the agency under Wheeler thwarting Comcast Corp.'s merger with Time Warner Cable Inc., issuing net neutrality rules and a bid to break providers' stranglehold on set-top boxes.
"It is unusual for someone from an industry background to be tough on businesses the way he has been," said Darrel West, director of the Center for Technology Innovation at the Brookings Institution in Washington. "I think he's doing what he thinks is right, as opposed to what people who paid him in the past would have liked."

Revolving Door
Others applaud Wheeler for resisting Washington's revolving-door syndrome, where regulators do the bidding of their former, or future, employers.
"The chairman is the rare former lobbyist who is using his industry expertise to aggressively promote the broader public interest," said Michael Calabrese, a director for wireless policy at New America's Open Technology Institute, which says it promotes social justice and access to digital technology. "Neither the cable nor wireless companies can fool him since he knows exactly how they operate."
Wheeler led a cable industry trade group, where he worked from 1976 to 1984. He also headed a wireless trade group from 1992 to 2004. Before winning President Barack Obama's nomination in 2013, he was managing director at Core Capital Partners, a venture capital firm investing in early stage Web companies.
Today, Wheeler said he's long favored innovation.
"I don't think that I've changed," Wheeler said during a news conference in Washington. He said while leading the cable industry decades ago he represented "people who were bringing new competition and new innovation to the marketplace, and saw the important role that public policy plays in ensuring that there are opportunities for those who want to bring competition."
His lobbying background had consumer advocates apprehensive when Wheeler was named to head the five-member commission.
Consumer Advocates
"After decades of industry-backed chairmen, we need a strong consumer advocate," groups including New America and Free Press Action Fund told Obama in a letter at the time. They cited a 2007 campaign pledge by Obama "to tell the corporate lobbyists that their days of setting the agenda in Washington are over."
Today, they are reconsidering.
"The chairman has taken important steps to overcome the skepticism expressed by many," Sarah Morris, a director of open Internet policy at New America. "He can claim key victories on behalf of the public thus far."
Wheeler's been "by and large positive with some disappointing decisions," said Tim Karr, a spokesman for the Free Press policy group that advocates for Internet openness. Karr cited decisions to let AT&T Inc. buy DirecTV, and Wheeler's recommendation that the agency approve Charter Communications Inc.'s purchase of Time Warner Cable.
No Comment
The National Cable & Telecommunications Association, once headed by Wheeler, has "no comment other than that we will continue to aggressively make our case to the FCC in hopes of fair and well-considered results," said Brian Dietz, a spokesman.
The group, with members including cable leader Comcast, Time Warner Cable and Charter Communications, has been critical of some of Wheeler's policies.
Michael Powell, the former Republican chairman of the FCC who's president of the cable trade group, recently lambasted what he called "the hypocritical inconsistency" of applying privacy regulations to cable providers and not to the likes of Facebook Inc. "It's just nonsensical," Powell told a Washington audience March 23.
FCC officials have said they don't have authority to regulate Web companies such as Facebook or Alphabet Inc.'s Google.
Today's Action
In Thursday's vote, the agency embarked upon writing rules to regulate how cable and telephone providers including AT&T and Verizon Communications Inc. charge competitors to carry business data, such as traffic to and from cell towers, or between merchants and banks. Competing companies want help to fight what they call unfair contracts and other restrictions demanded by the larger companies. The NCTA says cable has spent billions of dollars to bring competition and shouldn't face new regulation.
"Another month, another FCC initiative to regulate companies that build networks for the benefit of those that don't," Steve Morris, a vice president at the NCTA trade group, said in a April 14 blog post.
Morris's lament hints at a perception among incumbent telecommunications providers that the FCC, and the Obama White House, favor Web companies and especially Google in their policy choices. For instance, the FCC's net neutrality rules that forbid Internet service providers from unfairly manipulating Web traffic were backed by Google.
'The American Public'
Wheeler, 70, told senators at his confirmation hearing in 2013 that, "My client will be the American public" and since taking office he's repeatedly said his policies are guided by the prospect of encouraging competition. His post is influential in part because the FCC chairman controls the agency's agenda, deciding which issues to push forward to a vote.
Andrew Jay Schwartzman, who has lobbied the FCC for decades on behalf of consumers and is Benton Senior Counselor at the Institute for Public Representation at the Georgetown University Law Center, said he's not surprised by Wheeler's course.
"Having known him for a very long time, and knowing he instinctively supports disrupters and upstarts, I was very optimistic," he said.
(A previous version of this story misidentified BTIG in second paragraph.)