Economic Takeaways From Japan's Data Deluge as Markets Await BOJ
by
Core consumer price gauge slumps most in almost three years

Kumamoto quake may hurt April output, bleak outlook for May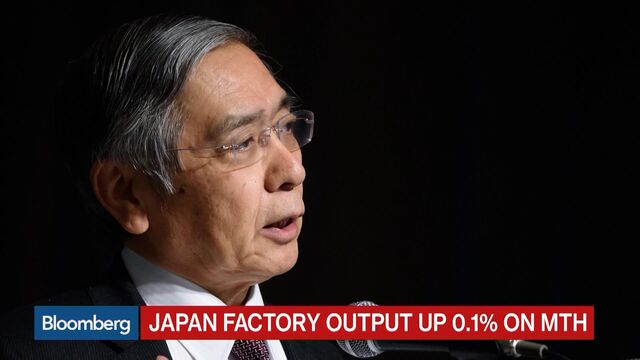 Here's what you need to know about the slew of economic indicators released in Tokyo Thursday morning as investors await the Bank of Japan's policy decision later in the day.
A key gauge of consumer prices slumped, leaving Governor Haruhiko Kuroda far from his 2 percent inflation goal. A rise in industrial output reflected a rebound from a month earlier, when auto production was crimped because of a steel-mill explosion; the outlook for the months ahead is poor. Household spending is volatile and fell again, while retail sales figures were mixed. The unemployment rate of 3.2 percent indicates a tight job market, but this has yet to drive significant gains in wages for full-time workers.
CONSUMER-PRICE INDEX (MARCH)

Overall CPI fell 0.1 percent (forecast at zero).
Core CPI, the BOJ's benchmark measure, which excludes fresh food, fell 0.3 percent from a year earlier (-0.2 percent forecast).
Core core CPI, an index that strips out energy and food, rose 0.7 percent (0.8 percent forecast).
The Bank of Japan releases an alternative index that excludes fresh food and energy later Thursday.

The takeaway: Core CPI shows the challenge Japan faces in fully escaping the deflation that marred the economy before Prime Minister Shinzo Abe and Kuroda launched their reflation campaign. The core core index also weakened slightly. That's significant given it previously helped support the BOJ's view that there is improvement in the underlying trend for inflation, once the effects of lower energy costs are stripped out.
Economist view: "Core CPI will probably fall for some time, mainly being driven down by declines in energy costs. Yet even taking out the effects of energy, the price trend isn't strong," said Yoshiki Shinke, chief economist at Dai-ichi Life Research Institute in Tokyo. "Japan's economy isn't in good shape and prices are far from what the BOJ forecasts. Given this, there is good enough reason for the BOJ to ease further."
INDUSTRIAL PRODUCTION (MARCH)
Output rose 3.6 percent (2.8 percent forecast) from February, when it slumped 5.2 percent.
Production is forecast to rise 2.6 percent in April, then fall 2.3 percent in May.
Measured year-on-year, production rose 0.1 percent in March (-1.6 percent forecast) after falling 1.2 percent in February.

The takeaway: The gain in March reflected a rebound from February, when a steel-mill explosion halted domestic car production at Toyota Motor Corp. and export demand waned. While the government forecast output to rise 2.6 percent this month, the full impact of the earthquake in Kumamoto hasn't been factored into projections. Even the estimate for a 2.3 percent drop in May doesn't fully reflect the quake. With continued weakness in demand at home and abroad, and the yen strengthening this year, manufacturers are having a hard time.
Economist view: "Overall, today's data show greater risk to any virtuous economic cycle in Japan. Grim news has been delivered to the BOJ," said Takeshi Minami, the chief economist at Norinchukin Research Institute. "If you carefully examine each piece of economic data, it's becoming increasingly clear that the BOJ has to add stimulus soon. My main bet is still for July, but these latest economic indicators increase the uncertainty for today's meeting."
RETAIL SALES AND HOUSEHOLD SPENDING (MARCH)
Retail sales fell 1.1 percent from a year earlier (-1.4 percent forecast).

Measured month-on-month, they increased 1.4 percent (0.5 percent forecast), following a 2.3 percent drop in February.
Household spending dropped 5.3 percent from a year earlier (-4.1% forecast).


The takeaway: These reports underscore a lack of confidence among consumers and the government's failure so far to persuade them to loosen their purse strings. The household spending data, which feeds into the private consumption component of gross domestic product, is a negative sign for the next release of figures on GDP in May. Another quarter of contraction for the economy would mark another recession for Abe.
JOBLESS RATE (MARCH)
The unemployment rate stood at 3.2 percent (3.3 percent forecast), compared with 3.3 percent in February.
The job-to-applicant ratio was 1.30 (1.28 percent forecast), indicating a tight employment market.


The takeaway: The figures show a tight labor market, and in theory that should mean higher wages, more spending and inflation -- all the things Kuroda is seeking. To the extent that Japan is seeing wage increases, it's most apparent in part-time and contract work. Part-timers lack job security, have lower overall income and benefits and make a limited impact on consumption. Full-time workers, with more capacity to spend, aren't receiving significant wage hikes.
Before it's here, it's on the Bloomberg Terminal.
LEARN MORE