Photographer: Martin Leissl/Bloomberg
Germany's Anti-Immigration Party Takes Aim at the ECB
by
`Master plan' to eliminate cash alleged by AfD's co-leader

Attacks on euro, central banks as party meets for convention
Germany's surging anti-immigration party isn't just railing against asylum seekers. It's also gunning for the European Central Bank, an alleged "master plan" to eliminate cash and negative deposit rates that it says amount to financial "repression."
To Alternative for Germany, a proposal by the German Finance Ministry to limit cash transactions to 5,000 euros ($5,670) and ECB considerations to phase out the 500-euro note are more than measures aimed at curtailing criminal activity. They're a first step in banning paper money and robbing helpless account holders of their privacy, according to Joerg Meuthen, the party's co-chairman.
QuickTake Europe's Refugee Crisis
"This is a master plan on the road to eliminating cash in order to take complete control over financial transactions," Meuthen, a professor of economics at the University of Public Administration in Kehl, said in an interview Thursday. "Everything people spend will be completely under surveillance by the state."
Fresh from sweeping into three German state assemblies in March, the party known most recently for opposing Chancellor Angela Merkel's open-border refugee policy and warning against Islamic influence is marshaling a broader list of grievances ahead of a national convention this weekend. The draft party platform includes a ban on minarets, calls for partnership with Russia and rejects international efforts to combat global warming as based on "faulty computer models." Elsewhere, proposed amendments call for outlawing male circumcision when practiced by Jews and Muslims for religious reasons.

Hostility toward the euro and the ECB's stimulus measures are among the most potent complaints by the AfD, as the party is known in Germany. To Alice Weidel, who sits on the party's executive board, the ECB's negative deposit rate -- a monetary tool intended to spur investment in the euro-area economy -- is a way to prop up living standards in highly-indebted euro countries at the expense of savers in creditor states such as Germany.
"These measures are financial repression," Weidel, an economist, said by phone. "The ECB has become a huge redistribution machine."
The Frankfurt-based central bank should eventually be abolished, "but that will happen anyway in the end," she said, because the 19-country euro area is doomed to fail.
ECB President Mario Draghi, in an interview with Germany's best-selling Bild newspaper published this week, said he was "doing everything to restore inflation to the right level."
"Interest rates are low because growth is low and inflation is too low" and rates will rise "when the economy is growing more strongly again and inflation rises closer to our objective," he said.

The party's stance on the euro has gained the attention of the ruling parties, exemplified in comments by German Finance Minister Wolfgang Schaeuble this month that suggested ECB President Mario Draghi's policy was abetting the AfD's rise. 
Established parties are starting to react to the AfD after "a period of denial," said Carsten Brzeski, chief economist at ING Diba AG in Frankfurt. "What the established parties are not doing is addressing the same issues and formulating alternatives."
The three-year-old party is riding a wave of frustration that's spread beyond the biggest influx of refugees since World War II. Voter support for the AfD declined one percentage point to 10 percent in the weekly Forsa poll published Wednesday, while other national surveys suggest the party might win 14 percent if elections were held now. Merkel's Christian Democratic bloc polled 33 percent and her Social Democratic coalition partner 22 percent.
Muezzin Ban
As the AfD prepares to contest national elections next year, it's holding the convention in Stuttgart, capital of the prosperous western state of Baden-Wuerttemberg where the AfD took 15 percent of the vote on March 13.
The draft platform calls for banning mosque minarets and calls to prayer in Germany, saying the growing number of Muslims in Germany is "a great challenge for our state."
"The minaret and call to prayer stand in contradiction to a tolerant coexistence of religions, such as that practiced by modern Christian churches," the draft says.
That stance on Islam has prompted accusations of racism and xenophobia from across Germany's mainstream political spectrum. Aiman Mazyek, chairman of Germany's Central Council of Muslims, compared the position to "Hitler's Germany" in an April 18 interview with broadcaster NDR.
It also marks a shift away from the original anti-euro, anti-bailout focus when AfD was founded in 2013 by Bernd Lucke, an economics professor who was ousted as party head last year. New co-leader Frauke Petry, an East German-born chemist, has made overtures to anti-Islamic protest groups such as Patriotic Europeans Against the Islamization of the West, or Pegida, which began drawing crowds in 2014.
"The AfD is pushing the right buttons" even when a measure such as eliminating cash clearly "isn't on the table," Brzeski said. "This is how you win votes."
Watch Next: What's Next for German Chancellor Angela Merkel?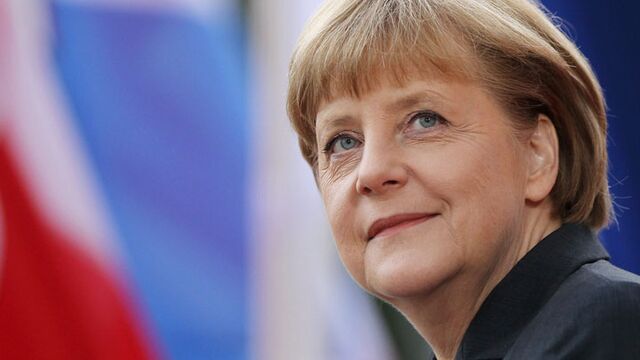 Before it's here, it's on the Bloomberg Terminal.
LEARN MORE