Dollar Slump Upends Stocks, Boosts Metals as Treasuries Weaken
by and
Commodities cap best month since 2010 as oil hits $46

S&P 500 ends month higher amid two weeks of declines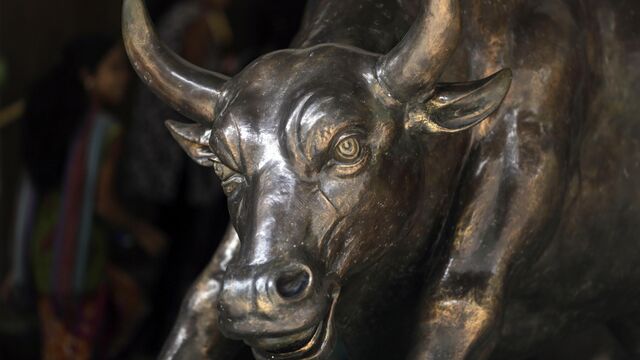 The dollar fell to the lowest level in almost a year on speculation the Federal Reserve won't rush to raise interest rates. U.S. stocks fell and commodities extended gains in their best month since 2010.
The Bloomberg Dollar Spot Index fell for third month, the longest since it started a two-year rally of 20 percent, while the yen had its biggest weekly jump since 2008. Declines in the greenback are proving a boon for raw materials, helping lift gold and silver to 15-month highs. Crude oil jumped 20 percent this month to $46 a barrel in New York. U.S. stocks staged an afternoon comeback to pare a decline and end April slightly higher.

The dollar's drop comes as personal spending in the U.S. last month reinforced speculation on the pace of Fed tightening as the world's largest economy struggles to gain traction. The rally in equities spurred by stabilization in the price of crude and the potential for central-bank support has stalled in recent weeks. Corporate results have been mixed, with profits at S&P 500 companies set for a fourth straight quarterly contraction.
"With the inactivity and ineffectiveness progressively for central bank policy, there's still certainly a lot of hand-wringing to be done," said Mike Moran, head of economic research for the Americas at Standard Chartered Bank. "It underscores the issue -- we're not in a very strong growth environment globally."
Currencies
The Bloomberg dollar gauge, which tracks the greenback against 10 major peers, slipped 0.6 percent as of 4 p.m. in New York, capping a 2 percent weekly loss and third straight monthly slide.
Consumer spending rose less than forecast in March, wrapping up the weakest quarter in a year for the biggest part of the U.S. economy even as incomes accelerated. A tempering of household purchases for the last three quarters has surprised economists given the favorable backdrop of low inflation, job gains and cheap borrowing costs.
The yen strengthened against all 16 major peers for the second day in a row, climbing as much as 1.1 percent to 106.91 a dollar, the strongest level since October 2014. It surged 5.1 percent this week as the Bank of Japan defied economists' expectations that stimulus would be stepped up.
Emerging-market currencies rose for a third month advance as oil rallied. The MSCI Emerging Markets Currency Index touched the highest level since July on Friday. The ruble extended the best start to a year on record as Russia's central bank left borrowing costs on hold. Colombia's peso rose 0.7 percent, pushing its gain in April to 5.1 percent. South Africa's rand advanced 0.4 percent, extending a monthly gain to 3.7 percent. The Brazilian real strengthened 4.4 percent in April.
Stocks
The S&P 500 Index fell 0.6 percent to 2,065.50, the lowest in two weeks. It's fallen 1.4 percent in two days, the most since Feb. 9. The gauge lost 1.3 percent in the week, paring a monthly gain to 0.3 percent. It's now fallen 1.7 percent since April 20, when it closed at 2,102.40 and was within 1 percent of an all-time high.
"A lot of optimism came into the market last week as we crossed 2,100, which makes it vulnerable to a short-term pullback," said Bruce Bittles, chief investment strategist at Milwaukee-based Robert W. Baird, which oversees $110 billion. "The market is being supported by very favorable monetary policy, but valuations are very stretched and earnings aren't coming through."
Amazon.com Inc. surged as it reported sales and profit that topped estimates. Chevron Corp. fell after reporting a wider-than-estimated loss. Gilead Sciences Inc. retreated as its profit missed estimates on lower-than-expected sales of its hepatitis C treatments.
The Stoxx Europe 600 Index fell 2.1 percent, for its biggest drop since Feb. 24 and paring its monthly increase to 1.2 percent. All its industry groups declined Friday.
The MSCI Emerging Markets Index dropped 0.6 percent, trimming this month's advance to 0.3 percent. The gauge has climbed 5.7 percent this year, compared with a 1 percent gain in the MSCI World Index of developed markets.
Commodities
The global gluts that have plagued markets from crude oil to zinc are finally starting to subside, sending commodities to their biggest monthly gain since December 2010. The Bloomberg Commodity Index, a measure of returns on 22 raw materials, rose 0.8 percent, extending this month's gain to 8.5 percent.
Oil dropped Friday from a five-month high as surging OPEC crude production is seen swelling global stockpiles. Futures settled at $45.92 a barrel in New York. WTI is up 20 percent this month, the most in a year, rebounding after slumping to the lowest since 2003 earlier this year. 
Base metals rallied, with aluminum set for its biggest monthly advance since 2012 amid signs of improved demand in China, the world's biggest consumer. Raw materials have recovered as China's property and construction industry rebounded after a slow start to the year. Copper, zinc, lead and nickel climbed at least 1 percent.
Gold and silver rose, both closing at the highest since January 2015.
Bonds
The Bloomberg U.S. Treasury Index declined 0.3 percent in April, set for the first monthly loss of 2016. The 10-year yield was little changed at 1.83 percent on Friday, having started the month at 1.77 percent. Similar-maturity bonds in Japan yielded minus 0.085 percent at the end of their final trading session in April.
The 10-year break-even rate, which measures the difference between yields on 10-year notes and equivalent Treasury Inflation-Protected Securities, widened for a 10th day. The gauge of the expected annual inflation pace over the next decade climbed to 1.73 percentage points, the highest since July.
Government bonds from Germany to Spain and Italy capped monthly declines amid signs of optimism about the regional and global economy, with data Friday showing euro-zone economic growth quickened more than analysts predicted in the first quarter. German 10-year bund yields rose two basis points to 0.27 percent, leaving them 12 basis points higher in the month.
Before it's here, it's on the Bloomberg Terminal.
LEARN MORE