Deutsche Bank's Thoma to Step Down in Wake of Board Clash
by
Lawyer Louise Parent to lead integrity panel on interim basis

Thoma faced isolation after intensive probes, people say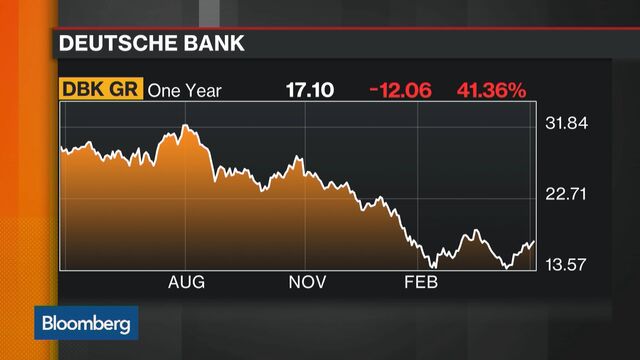 Deutsche Bank AG supervisory board member Georg Thoma is stepping down two years before his contract ends, capping a week of turbulence at Germany's biggest lender after criticism that he went too far in probing potential wrongdoing within its ranks.
Thoma, 71, will end his service on May 28, Deutsche Bank said in a statement from Frankfurt late Thursday. He's resigning from the board's integrity committee with immediate effect, the bank said.
Thoma, a Shearman & Sterling LLP lawyer, was left isolated after pushing to investigate Chairman Paul Achleitner and mounting intensive inquiries into Deutsche Bank executives, people familiar with the matter have said. Friction arose as Thoma sought to examine potential links between individual board members and legal cases starting in 2014, one of the people said.
That conflict burst into the open this week when at least two board members spoke out against him in public. Deputy Chairman Alfred Herling criticized him for being "overzealous" and spending too much in probing potential wrongdoing. Thoma hasn't responded to requests for comment on those assertions.
Deutsche Bank dropped 3.1 percent to 16.83 euros at 11:04 a.m. in Frankfurt. The shares have declined about 25 percent this year, while the Bloomberg Europe Banks and Financial Services Index lost 16 percent.
The remarks divided observers, with Dieter Hein, an analyst at Fairesearch-Alphavalue, saying Thoma was probably just doing his job, while Michael Seufert, an analyst at Norddeutsche Landesbank, said the question of going too far in probing wrongdoing is legitimate.
'Lost Control'
Thoma was brought on to help improve controls and work through the bank's numerous cases of misconduct. Achleitner told some colleagues at that time that the lawyer's experience would be a boon as post-financial-crisis scandals were just beginning to hit European banks, a person familiar with the matter said. The two men had worked on the privatization of the eastern German chemicals industry after the fall of communism, with Achleitner tapping Thoma for the board in 2013 as part of a wider overhaul.
"Achleitner should have never appointed friends to the board," said Tom Kirchmaier, deputy director of corporate governance at the London School of Economics. "That it now blows up in his face is just a sign that he might have lost control over the board."
Achleitner thanked Thoma in Thursday's statement, saying the lawyer has "delivered outstanding service" and implemented processes of "great importance and benefit" to the bank. "The supervisory board is determined to continue its work of investigating possible misconduct and to draw lessons for the future," the chairman said.
Legal Costs
Deutsche Bank supervisory board member Louise Parent, a lawyer at Cleary, Gottlieb Steen & Hamilton LLP, will take over leadership of the integrity committee on an interim basis with assistance from board member Johannes Teyssen. That panel monitors and analyzes the company's legal risks.
Deutsche Bank's costs and provisions for fines and lawsuits have amounted to 12.6 billion euros ($14.3 billion) since 2012 and have eaten into the company's reserves at a time when regulators order banks to hold more capital. The lender expects further "material" legal costs this year, it said on Thursday, when reporting quarterly earnings.
Herling said in the statement that Deutsche Bank will continue to conduct all investigations "thoroughly and independently and irrespective of the positions of the people involved."
Before it's here, it's on the Bloomberg Terminal.
LEARN MORE