Deutsche Bank Capital Pressure May Ease as CFO Weighs Cuts
by
CFO says looking into accelerating some cost measures

Cryan says unclear whether bank will make 2016 profit or loss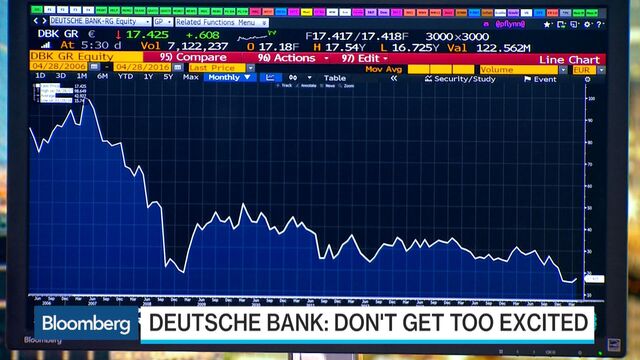 Deutsche Bank AG rose after Chief Financial Officer Marcus Schenck signaled that Germany's largest lender may have more time to build up capital buffers and is looking at ways to speed up cost cuts.
"We have at least one more year to get the relevant ratios compared to what we had expected in October," Schenck said on a call with analysts on Thursday, when Deutsche Bank reported a surprise profit for the first quarter. "We are of course looking into potentially accelerating some of the cost measures that we have planned as a reaction to what we're now seeing in the market. If volumes, if market activity stay at a low level, we will react to that."
Co-Chief Executive Officer John Cryan, 55, is seeking to bolster capital buffers without tapping investors as regulators toughen scrutiny of riskier activities. While the co-CEO has scrapped dividends, earmarked businesses for sale and pledged to eliminate thousands of jobs, earnings have been undermined by 12.6 billion euros ($14 billion) in costs linked to past misconduct, a bill which is seen rising and may spark another loss in 2016, according to Cryan.
'Small Ship'
"We got some salve on the wounds today, but I'm finding it hard to break out in euphoria and want to see if this is a trend," said Boris Boehm, who helps manage 2.1 billion euros including Deutsche Bank shares at Aramea Asset Management in Hamburg. "If the status quo is maintained and there isn't any more turmoil, then they can probably do without a capital increase. But, they are a small ship on the big sea of capital markets and they really have to hope that there are no more storms."
The shares rose as much as 5 percent and were up 2.2 percent at 17.07 euros at 3:11 p.m. in Frankfurt, making them the second-best performer on the 39-member Bloomberg Europe 500 Banks And Financial Services Index, which slipped 1.2 percent.
Deutsche Bank's 1.75 billion euros of 6 percent additional Tier 1 notes rose 1.18 cents on the euro to 83.6 cents, the most since March 15, data compiled by Bloomberg show. The lender's four CoCo notes were the only significant gainers among members of Bank of America Merrill Lynch's index of the securities.

Net income declined to 214 million euros in the first quarter from 544 million euros a year earlier, the Frankfurt-based company said on Thursday. Analysts had forecast a loss of 484.3 million euros, according to the average of six estimates compiled by Bloomberg.
The common equity Tier 1 ratio, a key measure of financial strength, fell to 10.7 percent at the end of March from 11.1 percent three months previously.
Schenck said he doesn't expect the CET1 ratio to rise this year from 2015, citing "material" legal expenses. Those costs will probably still be lower than the 5.2 billion euros and provisions for fines and lawsuits that it set aside last year, he said.
Responding to investor concerns, Cryan told Frankfurter Allgemeine Zeitung last month that while he can't rule out a capital increase "as a matter of principle," the lender sees "other opportunities" for meeting tougher regulatory requirements.
"In the current environment it would be pretty hard for them to collect additional shareholder funds," said Dieter Hein, an analyst at Fairesearch-Alphavalue in Kronberg, close to Frankfurt, who has a sell recommendation on the shares. "The dilutive effect would be quite high. Cryan has to prove very fast that he's the right man for this job."
Basel Rules
In January, the Basel Committee on Banking Supervision issued tougher capital requirements on swaps, bonds and other securities that banks intend to trade. While governments must write the market-risk rules into their national laws by Jan. 1, 2019, banks have until the end of that year to begin regulatory reporting based on the rules. The Basel Committee is still working on its revamp of rules for how banks assess credit and operational risks.
Cryan's overhaul has been complicated by surging legal costs, record-low interest rates and volatile markets, which pushed the bank into a loss in 2015. The global markets business, led by Garth Ritchie, reported a first-quarter profit of 380 million euros after a loss of 16 million euros in the year-earlier period, while corporate and investment banking had a profit of 316 million euros, down from 722 million euros a year ago.
Deutsche Bank's debt-trading revenue, its largest source of income, fell 29 percent to 2.8 billion euros on a "challenging market environment" and as the company exited businesses such as capital-intensive securitized products. Analysts surveyed by the company forecast a drop to 1.89 billion euros. Equity trading revenue slipped 29 percent to 728 million euros in the period.
'Long Road'
The five largest U.S. investment banks saw their combined trading revenue drop 22 percent in the first quarter, with Barclays Plc on Wednesday reporting a 4 percent decline.
"Deutsche Bank is one of the biggest restructuring stories in the Western hemisphere," Filippo Alloatti, a senior credit analyst at Hermes Fund Managers Ltd., said in an interview with Bloomberg Television's Anna Edwards on Thursday. "There's still a very long road ahead. I think we can start to see the benefits of the restructuring soon."

Expenses fell 17 percent to 7.2 billion euros from a year earlier. That was largely driven by litigation charges dropping 88 percent to 187 million euros, less than the 529 million euros estimated by analysts. Restructuring and severance costs will range between about 500 million euros and 700 million euros in the remainder of the year at current exchange rates, Deutsche Bank said. They were at 285 million euros in the first quarter.
"The results look quite decent," said Tomasz Grzelak, an analyst at MainFirst in Zurich, with a neutral recommendation on the shares. "They actually had a profit, revenues are better than expected -- the only thing that's slightly weaker is the capital."
Deutsche Bank also said it faced 343 million euros of income-tax expenses in the first quarter, down from 920 million euros a year earlier, helped by lower litigation costs. The company remains "optimistic" that it will be able to settle "significant" litigation cases this year, according to Schenck's presentation.
"At the moment it's unclear to us whether we'll make a small loss or a small profit but it's looking as though we're on the cusp," Cryan said. "To some extent, the lower the profits or if we have a marginal loss, it could be the hallmark of success. A bigger profit may be a hallmark of us not having achieved doing a lot of what we wanted to achieve."
Before it's here, it's on the Bloomberg Terminal.
LEARN MORE