Detroit Has Valley Envy
The rise of robot cars is forcing alliances with tech interlopers.
By and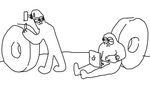 A traffic jam of Silicon Valley companies has a mission: to destroy Detroit's business model and take over transportation with driverless cars and shared mobility services. Yet last summer, General Motors' top brass ventured behind enemy lines to meet with the very forces trying to upend the industry. When the 15 executives returned to Detroit, they realized they needed to defend their turf not only by accelerating their own mobility programs—from ridesharing outfits to driverless-car software—but also by forming alliances with the challengers in the Valley.
By Thanksgiving, GM, which since 2000 had invested heavily in self-driving cars and rolling 4G hotspots, was in a hurry to find a partner to combine its in-house technology with a ride-hailing service. But Uber Technologies wasn't interested in aligning with old-line manufacturers. So GM struck an agreement to invest $500 million in Lyft for a 9 percent stake in the No. 2 ride-hailing business. GM President Dan Ammann now sits on Lyft's board. A few months later, GM dropped almost $1 billion for self-driving software maker Cruise Automation, one of the richest deals ever in the Valley. "It's more than getting a window view," Ammann says of the investment he contends is critical to GM's future. "We want to make it clear that this is a significant strategic investment."
The rise of self-driving cars and the sharing economy has Detroit on the defensive. The American auto industry, which long prided itself on following its own path, now realizes it must partner with players in Silicon Valley to remain relevant in a future where cars drive us and we don't own them. Fiat Chrysler Automobiles Chief Executive Officer Sergio Marchionne says he wants to help Apple build a car. Ford has engaged in negotiations with Google that have yet to yield a deal. Ford CEO Mark Fields says the search giant and Apple could be his key rivals in the future. Beyond Lyft, GM has expressed interest in hooking up with Google. The automakers offer their century-old expertise in mass production, but they also want a role in developing driverless technology.
"We can wait to be disrupted, or we can take an active role to disrupt," Mark Reuss, GM's product development chief, told Bloomberg Businessweek last fall. "Collaboration between General Motors and Google is something that I am very interested in."
Detroit's bosses realize they face an existential threat. U.S. auto sales may drop 40 percent over the next 25 years because of shared driverless cars, forcing GM, Ford, and other mass producers to slash output to survive, says Barclays analyst Brian Johnson. If Detroit doesn't get into bed with the disrupters, well-financed startups such as Chinese electric-vehicle makers Faraday Future, NextEV, and Atieva may be happy to do deals in the Valley.
Automakers are trying to elbow their way into the burgeoning business of mobility, spending billions creating their own robot rides and car-sharing outfits. GM just started a ridesharing service, Maven, and acquired a pioneer in that business, Sidecar Technologies in San Francisco. Ford created a separate unit, Ford Smart Mobility, to expand its presence and partnerships in the Valley, while also experimenting with ridesharing in London and the U.S.
BMW and Daimler each tried and failed to cement a partnership with Apple, with talks collapsing over who would control the ventures, according to Germany's Handelsblatt. BMW has started its own luxury-car-sharing service, ReachNow, in Seattle and is expanding it to 10 North American cities. After acquiring a trio of transportation startups, Daimler, parent of Mercedes-Benz, has created a mobility software and services unit named Moovel Group. Daimler also has a car-sharing service, Car2go.
Marchionne, who's tried unsuccessfully to merge Fiat Chrysler with a larger automaker, contends he could convince Apple of the merits of utilizing his company's automotive expertise. "Apple has a language, and you have to be able to speak that language," he said in March. "Usually the industry comes into that dialogue with a high degree of arrogance, as we know how to make cars. That's not very helpful, as their syntax is worth more than our ability to build cars."
Detroit recognizes it can't keep up with the pace of change on its own. "This is a defining moment for the automotive industry," says Thilo Koslowski, a former vice president for the automotive practice at Gartner who's now at Porsche. "Mechanical engineering excellence is not sufficient anymore to succeed in the future. They have to think about how a car becomes a node in consumers' digital lifestyles."

For now, the quickest way into that digital future is through alliances with Valley interlopers. Google's self-driving cars have racked up 1.4 million miles of testing on public roads, more than anyone else. Uber and Lyft are already eclipsing taxis in some markets. Apple isn't revealing its intentions but has been on a hiring spree to snap up automotive experts—fueling speculation that it wants to redefine human mobility just as it changed the game in music and mobile phones. Pairing with these tech giants would mean sharing secrets with the forces trying to blow up the traditional transportation business model.
But no single company can cover the cost of reinventing the automobile and mass-producing it. It will be a multibillion-dollar proposition as the market for autonomous technology grows to an estimated $42 billion annually by 2025 and self-driving cars account for a quarter of global auto sales by 2035, according to Boston Consulting Group. Google has admitted it can't build cars on a mass scale on its own and is putting a priority on finding an automotive partner this year, analysts say. It also has lessons to learn from Detroit's distribution system and marketing methods. "We're going to need a lot of help," John Krafcik, the former Hyundai Motor and Ford executive now running Google's self-driving car program, told auto industry leaders in January. "In the next stages of our project, we're going to be partnering more and more for sure."
Any marriage of convenience between Detroit and cash-rich Silicon Valley companies is likely to come with plenty of conditions. The greatest risk to car builders is that they simply become the manufacturing brawn to the Valley's software brain. That would relegate automakers to junior partners building the equivalent of the cell phone handset while the tech guys imbue autonomous cars of the future with all that makes them special—and collect the lucrative data they'll generate. It would be as if mighty GM or Ford were reduced to an automotive version of Foxconn Technology, the Taiwanese contract manufacturer that assembles the iPhone according to Apple's very precise specifications.
"If automakers play their cards right, they can become more integrated with Google in building and harnessing the brains of the operation," says Mark Boyadjis, an analyst at consultant IHS Automotive. "But if history serves us correctly, Google is going to want to control almost every aspect."
The bottom line: Barclays says U.S. auto sales could fall 40 percent within 25 years. Detroit is looking to tech partnerships to stay relevant.
Before it's here, it's on the Bloomberg Terminal.
LEARN MORE