Canada Stocks Little Changed Amid Earnings, Gold Producers Rally
by
Bombardier secures $5.6 billion C Series order from Delta

Constellation Software, Potash Corp. earnings disappoint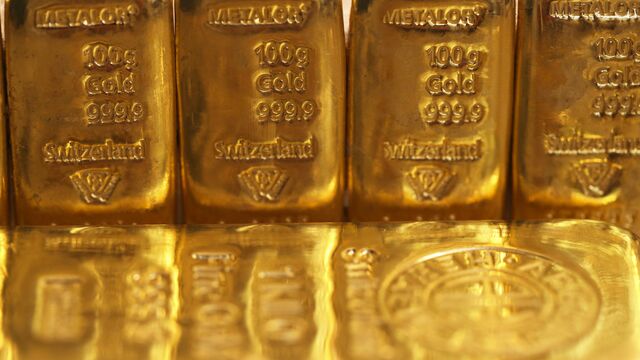 Canadian stocks closed little changed as gold producers rallied, offset by disappointing earnings from Potash Corp. of Saskatchewan Inc. and Constellation Software Inc.
The benchmark Standard & Poor's/TSX Composite Index fell less than 0.1 percent to 13,886.43 at 4 p.m. in Toronto, erasing a gain of as much as 0.6 percent in the final hour of trading. The gauge halted the longest losing streak in three weeks on Tuesday, and is one of the best-performing developed market in the world this year as it rebounds from last year's worst annual decline since 2008.
Barrick Gold Corp. and Goldcorp Inc. rallied at least 4.6 percent as gold producers surged to a more than two-year high. Gold prices got a surprise lift after the Bank of Japan opted against boosting stimulus, weakening the dollar. Gold for June delivery climbed 1.3 percent to settle at $1,266.40 an ounce in New York.
Raw-materials producers jumped 2.2 percent, the most in the Canadian benchmark equity gauge as four of 10 industries in the S&P/TSX advanced. Constellation Software sank 5.1 percent to a two-month low after posting first-quarter adjusted earnings of $2.95 a share, short of consensus estimates of $4.45. Technology stocks slid 1.7 percent as a group, the steepest drop since March 4.

Bombardier added 1.5 percent, extending a July high, after landing a $5.6 billion deal based on list prices to sell at least 75 of its C Series jets to Delta Air Lines Inc. with an option to buy 50 more. Bombardier also reported a wider-than-estimated quarterly loss, while revenue was short of analysts' forecasts.
Potash Corp. slipped 3.6 percent to a five-week low after cutting its full-year profit forecast as fertilizer prices declined and China delayed signing key supply contracts. The forecast for potash production at the world's second-largest producer of the fertilizer was also reduced. First quarter sales and profit also slumped.
The resource-dominant S&P/TSX remains closely linked to moves in commodities prices, with a 17 percent rally in the benchmark equity gauge from a Jan. 20 low aligning with a rebound in crude from the lowest levels since 2003. Raw-materials and energy producers are the two top-performing industries in Canada so far this year, up more than 14 percent.
The Canadian benchmark now trades at 21.9 times earnings, about 15 percent higher than the 19.1 times earnings valuation of the Standard & Poor's 500 Index, according to data compiled by Bloomberg.
Before it's here, it's on the Bloomberg Terminal.
LEARN MORE