Buffett as Climate Oracle? Great, If He'd Take Job: Scientist
by
James Hansen says billionaire may push global warming action

Scientist plans Berkshire proposal on climate-change impacts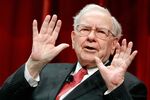 Warren Buffett would be a convincing advocate for doing more to combat global warming, according to a leading climate scientist. Convincing the billionaire to take up the cause may be more difficult.
James Hansen, a former NASA scientist who first brought climate change to the attention of Congress in the 1980s, said during a conference call Thursday that enacting carbon taxes to make fossil fuels as expensive as possible is a key way to cut greenhouse gases. And few others could articulate that argument better than Buffett, chairman of Berkshire Hathaway Inc. and the world's third-richest person.
"Buffett talks to millions," Hansen said. "If he would make a point such as that, it would be extremely valuable."
The scientist said he will present a resolution at Berkshire Hathaway's annual meeting on April 30, calling on the Omaha, Nebraska-based company to disclose how climate change will affect its insurance subsidiaries. Buffett has already publicly opposed the measure, writing in his annual letter that natural disasters may spur more demand for coverage, which may make the insurance business more profitable.
However, Buffett acknowledged in the letter that climate change probably "poses a major problem for the planet."
Before it's here, it's on the Bloomberg Terminal.
LEARN MORE