Brexiteers Risk Toxic Divorce to Better Swiss Deal With Europe
by , , and
Vote Leave CEO Elliott says City of London gives U.K. weight

Geneva professor says U.K. would face tough negotiations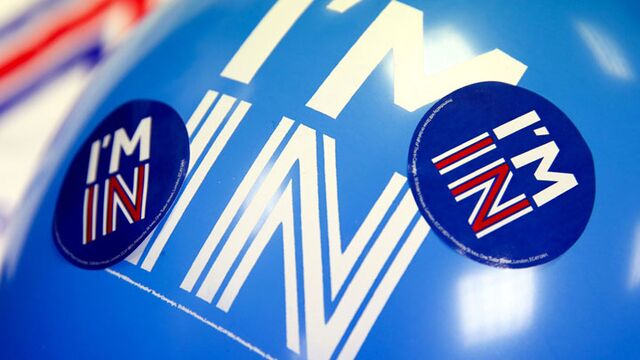 Leaving the European Union will allow the U.K. to negotiate an even better deal than Switzerland with the 28-nation bloc, according to the head of Vote Leave campaign.
QuickTake Will Britain Leave the EU?
"We can have our own bespoke model," Matthew Elliott, chief executive of Vote Leave, said in an interview in Geneva on Thursday. "I'm sure we could get a better deal than Switzerland when it comes to financial services," partly because of "the sheer weight of the City of London."
Two of the "Leave" campaign's high-profile proponents -- U.K. Independence Party leader Nigel Farage and London Mayor Boris Johnson -- have cited Switzerland's ability to forge ties with the EU as an example for Britain to follow if the nation votes to exit the EU in a referendum on June 23. Still, a painful "divorce" would make the U.K.'s renegotiation with the EU difficult at a time when the bloc is already unhappy with its relationship with Switzerland, said Rene Schwok, a professor of political science at the University of Geneva.
"The U.K. would need to dismantle and then reconstruct, but it would be like building a new house in Chernobyl," said Schwok, who's analyzed what Britain can learn from the Swiss experience. It took Switzerland six years to negotiate a deal with the EU and, according to Schwok, the country received favorable terms because the agreement was seen as a first step toward membership of the bloc.
Facing Crisis
The EU's unhappiness with that deal was heightened in February 2014, when Swiss voters approved new immigration limits for EU citizens, putting it at odds with a treaty that touches everything from the free movement of people to agriculture and civil aviation, said Schwok.
"It's ironic to put the Swiss situation as a model, because it's currently in crisis," Schwok said in a phone interview. "The EU is saying 'you have a good deal, but it's over."'
On the "Remain" side, U.K. government released a 200-page Treasury analysis that warned the economy would be permanently damaged by a so-called Brexit. London's financiers and business executives have been warning that a vote to leave the EU will prompt overseas banks to move jobs elsewhere. Other banks are also addressing Brexit with Goldman Sachs Group Inc., Morgan Stanley and JPMorgan Chase & Co. contributing to the campaign for staying in the bloc.
Serious Threats?
"Do I take their threats seriously?" said Elliott, commenting on the possibility of banks relocating employees. "No, because I can't see how they really would want to move their operations to Frankfurt because not many of their employees will want to move there. I don't think they'd want to put up with the labor regulations and personal tax levels you have in Paris. Dublin is a brilliant place, speaks English and what have you, but frankly doesn't have the infrastructure or the size."
A low turnout would favor the "Leave" cause because its supporters are more motivated to vote, according to Elliott, who said business leaders supporting his campaign will be unveiled over the coming weeks. He declined to name them.

Before it's here, it's on the Bloomberg Terminal.
LEARN MORE