Bombardier Gets Delta Airlines Order of up to 125 C Series Aircraft
by
Airline places firm order for 75 C Series jets with 50 options

Canadian planemaker ends 19 months without firm commitments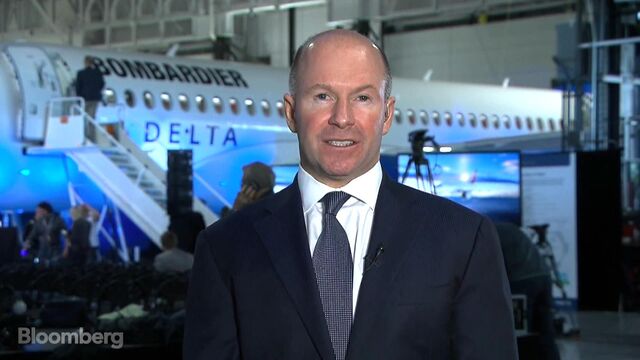 Bombardier Inc. landed the coveted U.S. customer it's been seeking for its C Series narrow-body jetliner, as Delta Air Lines Inc. agreed to buy at least 75 of the state-of-the-art airplanes.
The order is valued at $5.6 billion based on list prices, and deliveries of CS100 jets will begin in 2018, Montreal-based Bombardier said Thursday in a statement. Delta, which will become the largest operator of the aircraft, also has options for an additional 50 planes. Carriers typically negotiate discounts on jet purchases.

The deal marks the first major firm order in 19 months for the beleaguered C Series, which has struggled to make inroads against single-aisle aircraft made by rivals Airbus Group SE and Boeing Co. The agreement with Delta will also enable Bombardier Chief Executive Officer Alain Bellemare to exceed a target of 300 firm commitments for the C Series by the time the jet enters service in the third quarter.
The order is a "major boost for this program and provides runway to allow the C Series to gain some traction in the marketplace," Peter Arment, an analyst at Sterne Agee CRT in New York, said in a note to clients.
Bombardier's widely traded B shares climbed 3.5 percent to C$2.08 at 11:08 a.m. in Toronto.
'Third Competitor'
"This decision by Delta in our opinion brings Bombardier as a third competitor into the mainline aircraft marketplace with Boeing and with Airbus," Ed Bastian, the U.S. carrier's incoming chief executive officer, said at a televised event in Mirabel, Quebec, alongside Bellemare. "We're thrilled to be able to have that choice in the marketplace."
Before the agreement with Delta, Bombardier had racked up 243 firm orders for the C Series, which is more than two years late and more than $2 billion over budget. The company also expects Air Canada to convert a letter of intent for at least 45 CS300 aircraft into a firm commitment this quarter, according to a quarterly filing posted Thursday on the Bombardier website.
"It's a turning point for the program," Bellemare said in a telephone interview. "It gives us very strong momentum and will fill up the skyline for the next few years."
Bombardier expects the Quebec government to close a $1 billion investment in the C Series program this quarter. Talks with Canada's federal government over a similar accord are continuing and it's impossible to say when a deal could be reached, Bellemare said.
"These are complex deals, and they always take longer than you want," he said.
Asked if Bombardier still needs an investment from Canada now that Delta has committed to purchasing the C Series, Bellemare would only say that further government support "would add financial flexibility, which is always good." He declined to elaborate.
Quarterly Loss
Bombardier announced the Delta order as it swung to an adjusted loss of 3 cents a share for the first quarter. That compares with an average 1-cent loss predicted by analysts surveyed by Bloomberg. Revenue fell to $3.91 billion, compared with the $3.98 billion average estimate.
The company also reaffirmed its main profit targets for the full year: revenue of $16.5 billion to $17.5 billion; earnings before interest, taxes and special items of $200 million to $400 million; and negative cash flow of $1 billion to $1.3 billion.
Bombardier says the C Series, with a composite frame and a new engine made by the Pratt & Whitney unit of United Technologies Corp., will cut fuel consumption by about 20 percent compared with competing models while also making less noise.
Deutsche Lufthansa AG's Swiss International unit will become the first carrier globally to operate the jet when it deploys CS100s on European routes. With the order, Delta overtakes Macquarie Group Ltd. and Republic Airways Holdings Inc. as the biggest buyer of the C Series. Delta also has the right to convert an unspecified number of CS100 jets to the larger CS300 at a later date.
Onerous Provision
Bombardier's second-quarter results will include an "onerous contract provision" to be recorded as a special non-cash item of $500 million in conjunction with 127 firm purchase agreements booked in the period, Bombardier said Thursday in the filing.
Bombardier has said it plans to invest $2 billion on the C Series program until 2020, and the provision is part of that amount, according to John Di Bert, the company's chief financial officer.
"We have a learning curve and the earlier units will have a higher cost," Di Bert said in a telephone interview. "As we ramp up to our full production rate in 2020, those costs begin to reduce on average."
The 127 orders include the 75 jets that Delta is buying, Air Canada's 45 and another seven that Latvia's Air Baltic Corp. agreed to buy this month.
Bombardier is seeing "worldwide interest" in the plane, Bombardier Commercial Aircraft President Fred Cromer said in the interview.
"Delta is the endorsement, Air Canada is the endorsement, and we are going to continue to build on that," Cromer said.
Before it's here, it's on the Bloomberg Terminal.
LEARN MORE