Bank of Japan's Surprise Factor Runs Risk of Wearing Thin
by
Markets left reeling after BOJ holds off on extra stimulus

Analysts say central bank sending mixed and confusing signals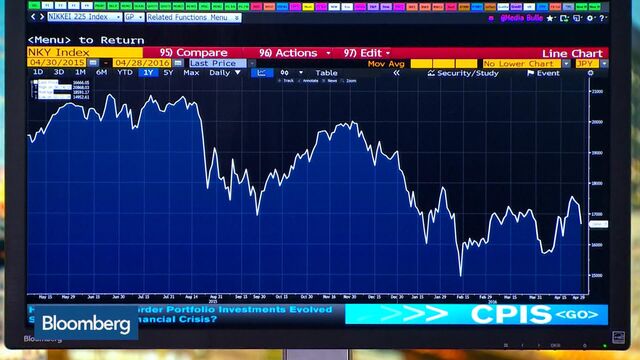 Haruhiko Kuroda may have sprung one surprise too many.
The Bank of Japan's decision to hold off on adding stimulus to an economy that's crawling along the bottom stunned markets Thursday, sending the yen surging and stocks slumping. 
It also left some analysts scratching their heads about the BOJ's communications strategy and its ability to steer markets in the future. Reactions ranged from shock to frustration. One even described the central bank's decision as mysterious. 
"The BOJ seems to have descended into a haze of confusion," said Richard Jerram, the chief economist at Bank of Singapore. "They mismanaged expectations running up to the meeting -- and that is clear from the market reaction."
Governor Kuroda told reporters at a press conference after the policy meeting that he wants to wait and see how the introduction of negative rates in January affects the economy and that the BOJ doesn't have a communications problem.
Not everyone agrees. A consistent strategy of surprising markets could begin to backfire if investors start to drift away from the central bank's messaging, said Marcel Thieliant, senior Japan economist at Capital Economics in Singapore.
Logic of Surprise
"They think surprises are a good thing and by not signaling well in advance what they are doing, they think they can maximize the impact," Thieliant said. "That works in the short term, but the risk is that people just don't understand what's happening."
The sense of urgency for the BOJ to act had been fueled by the yen's gain of about 10 percent versus the dollar since the beginning of the year, along with tepid inflation and the economy's struggle to get traction. 

Kuroda had said repeatedly that the BOJ wouldn't hesitate to add stimulus, if necessary, and expressed concern about the impact on exporters of the currency's rapid appreciation.
Instead, Japan's central bank on Thursday again pushed back the timing of when it expects to meet its key 2 percent inflation target, and gave few clues away about the next move in policy. A slew of economic data released just before the policy meeting highlighted the challenges: A key gauge of consumer prices slumped while the outlook for industrial production was poor.
Negative sentiment about Japan's economy isn't hard to find. The International Monetary Fund in April halved its 2016 growth forecast for Japan to 0.5 percent, deflation remains a threat and real wages have fallen for four consecutive years. Foreign investors in the stock market have rushed for the exit this year.
'Critical Moment'
"If we just go by Kuroda's explanations in the past, this is definitely what he would have defined as a critical moment," said Izumi Devalier, an economist at HSBC Holdings Plc, who had called Thursday's meeting the most closely watched in recent memory. "It's hard to see what the reaction function is now. He's not reacting to the data, he's not reacting to the economics."
Part of the BOJ's thinking could be a desire to force the government to stoke growth by ramping up spending and pushing through reforms, mirroring a call by the Group of 20 for governments to do more, Devalier said.
"All in all, it points to central banks passing the baton to governments," she said.
Some advisers close to Prime Minister Shinzo Abe, such as Kozo Yamamoto, have already called for new fiscal stimulus and even a tax on companies with big cash hoards to prod them to invest. Yamamoto's tonic also included fresh BOJ easing.
Economist Survey
To be sure, only a slight majority of economists surveyed by Bloomberg had expected the BOJ to act.
Kyohei Morita, chief Japan economist at Barclays Plc, was among those to correctly predict the BOJ would stand pat on Thursday.
"Kuroda wanted to make it clear the BOJ won't make monetary policy driven by market demands," Morita said. "It's too early to make another move after implementing the negative rate a couple of months ago."
It's not the first time that Kuroda has wrong-footed investors. The governor ruled out negative interest rates only to introduce them in January and he's known to like surprising markets for maximum impact. He also has a track record of waiting to see the effect of policy changes as they flow through the economy before deciding on fresh action. 
Given how January's move backfired, the BOJ was in a tough spot, according to Stephen Jen, co-founder of hedge fund SLJ Macro Partners LLP and a former IMF economist. More "shock and awe" stimulus, and the BOJ would have appeared to be in a panic, while standing pat would be "implicitly admitting that the BOJ is losing potency," Jen said.
"The BOJ can still 'shock,' but they can no longer deliver 'awe,'" Jen said. "The trouble is that the BOJ might not know the difference between 'shock' and 'awe.'"
Before it's here, it's on the Bloomberg Terminal.
LEARN MORE