Amazon Urged by New York Official to Serve Minority Areas
by
Bronx Borough President writes CEO demanding same-day delivery

Elected leaders in New York, Chicago call for investigations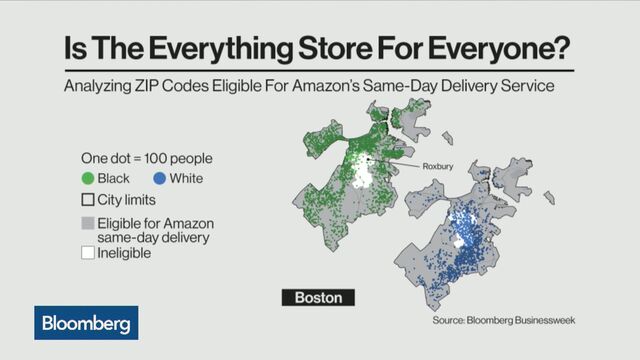 Pressure is mounting for Amazon.com Inc. to expand same-day deliveries to predominantly minority neighborhoods in New York and Chicago after a backlash in Boston spurred the online retail giant to offer the service to a largely black community that had been excluded.
Elected officials representing New York City and Chicago have called for state and federal investigations examining how the company determines which neighborhoods are eligible for quick delivery of goods. Amazon said that race plays no role in establishing service boundaries.
The latest salvo came Thursday from Bronx Borough President Ruben Diaz Jr., who sent a letter to Amazon Chief Executive Officer Jeff Bezos urging him to bring same-day delivery to the Bronx -- the only New York City borough excluded from it.
"While your company serves four of the five boroughs, my own constituents, largely black and Latino in ethnic makeup, are excluded," Diaz said in the letter obtained by Bloomberg News. "Such a level of insensitivity, if not hostility, should not be an accepted business practice for the world's leader in online retail."
Widespread Service
Amazon last year introduced free same-day delivery of more than 1 million goods as a perk of its $99 annual Prime subscription. The service is now available in 27 metropolitan areas.
An analysis of Amazon's same-day delivery boundaries published last week by Bloomberg News highlighted varying degrees of racial disparity in the service areas in Atlanta, Boston, Chicago, Dallas, Washington, and New York. In other cities, including Philadelphia, Seattle and San Francisco, Amazon provided the service throughout the area and there was no disparity.
Amazon's representatives didn't specifically comment on the situations in the Bronx or Chicago. They have said race isn't used to determine boundaries for the services, which they emphasized are new and growing. The company said most of the cities eligible for same-day deliveries, including Los Angeles, have minority communities that receive the quick service and all Prime members living in the continental U.S. are eligible for free two-day delivery.
"Last year, we launched Prime Free Same-Day Delivery in 12 metropolitan areas and have since expanded to 27 areas, serving more than 1,000 cities and towns -- and we are not done," Amazon said in a statement. "We will continue expanding our delivery capabilities and are adding more zip codes rapidly."
Following an outcry in Boston from local and federal officials, Amazon pledged to bring same-day deliveries to Roxbury, a largely black neighborhood in the center of the city that had been excluded from the service. Similar pressure is now building in other cities.
'Slap in Face'
Diaz's letter follows a call from New York State Assemblyman Jeffrey Dinowitz, whose district includes the Bronx, for state and federal investigations into Amazon's same-day delivery boundaries. He called Amazon's exclusion of the borough from the service "a real slap in the face to the 1.4 million proud Bronxites who might want to do business with Amazon."
U.S. Representative Bobby Rush, an Illinois Democrat whose district includes Chicago, on Tuesday urged the Federal Trade Commission to investigate Amazon's same-day delivery boundaries to determine if they are unfair or the company is engaged in deceptive business practices that violate federal laws.
Rush took to the floor of the House of Representatives Thursday to call upon Bezos to "do what is right and right this wrong." Amazon's exclusionary service violates the Civil Rights Act of 1964, he argued, and stands as a barrier to an equitable distribution of services.
"Amazon.com, your Prime same-day delivery service is not so prime until all your customers are treated fairly and equitably in your business model -- no excuses," Rush said. "Make Amazon's prime same-day delivery service a prime service that is available to all the citizens of this nation and not just to the white citizens of this nation. This is shameful and must be corrected."
Delivery Factors
Amazon's representatives have said areas for the quick delivery service are determined by the concentration of Prime members, proximity to warehouses where goods are stored and the company's ability to find delivery partners. The Bloomberg story highlighted how some decisions based on data can have unintentionally racially disparate outcomes.
Amazon probably will make Roxbury an experiment in serving communities it previously overlooked, said Juan Gilbert, chair of the University of Florida's department of computer and information science and engineering.
"If they have success in Roxbury, they'll expand to those other communities very quickly," he said. "They made a miscalculation thinking it wouldn't pay off."
Before it's here, it's on the Bloomberg Terminal.
LEARN MORE