Zuckerberg Borrows Google Tool Splitting Stock for Control
By
Shareholders will see a 3-for-1 division, new class of stock

New non-voting class will avoid dilution in takeovers, comp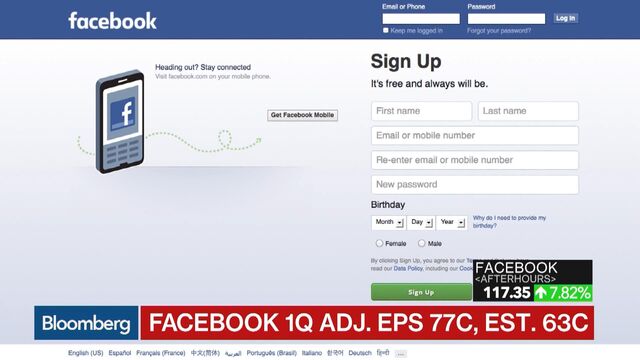 The equity market just got a little more complicated.
Stealing a trick from Google Inc., the biggest social network operator, Facebook Inc., disclosed a plan Wednesday to create a new class of shares to go along with its existing two, a strategy that cements control for its founders. When enacted, the action will amount to a 3-for-1 split that will send about 5.7 billion new Facebook shares into the world, stripped of voting rights.
Such arrangements are becoming more popular at companies with multiple share classes as a way of insulating founders from dilution. With a new category of non-voting stock at his disposal, Chief Executive Officer Mark Zuckerberg can use the shares for things like acquisitions and compensation without fear of reducing his influence.
"This will become fairly common for strong founder CEOs that have established a long tenure of performance," Ryan Jacob, manager of the Jacob Internet Fund, which oversees $40 million including Facebook shares, said by phone. "It's a trend that we'll see continue as companies get larger. Issues of share dilution come up much sooner for these types of companies, which offer a large portion of compensation through stock."

While not a universally beloved tactic because of its leader-for-life connotations, Facebook holders might be hard-pressed to complain about much of anything right now given the performance of the shares. After coming to market at $38 in May 2012, the stock has nearly tripled, and the company was the fastest in U.S. history to get to $250 billion in market value. Its capitalization today is about $310 billion, bigger than 27 of the 30 Dow Jones Industrial Average members.
"Investors are remarkably willing to overlook sub-optimal governance decisions when things are going well. The opposite is true when things are not," said Brian Wieser, a senior research analyst at Pivotal Research Group LLC in New York. "If you're the controlling shareholder and you believe you need this, then the best time to do it is when things are going well."
Shares of Facebook, which also reported sales and profits that exceeded analyst estimates last night, were up about 10 percent to $120.10 in trading before the open of U.S. exchanges.
Like Google, Facebook began its stock market life with two sets of stock: Class A shares, which is what the average investor owns, and Class B stock that confers 10 voting rights and is mainly held by company insiders. Facebook has about 2.29 billion Class A shares outstanding and 551 million of Class B.
If you're a Facebook shareholder, the net effect of the plan will be to have three shares of stock where you once had one, with the price falling by two-thirds when the new shares hit the market. While the new shares will carry no voting rights, your proportionate influence on things like proxy proposals will stay the same.
The creation of the new class requires shareholder approval, after which Facebook intends to implement the proposal immediately. The date for a vote hasn't been set.
The measure is "to ensure that the company maintains its long-term focus," David Wehner, the chief financial officer, said in a telephone interview. "A large part of Facebook's success is due to Mark's leadership and this proposal will allow us to maintain that founder-led approach that has served our shareholders well."
The proposal followed an analysis by a special committee of Facebook's board comprising directors Susan Desmond-Hellmann, Marc Andreessen, and Erskine B. Bowles. The panel was formed after an August 2015 discussion with Zuckerberg in which he noted he might lose control of the company if he gave away large number of shares or if Facebook made a large acquisition.
For his part, the CEO portrayed the issuance as part of a larger strategy that will free him to give away 99 percent of his Facebook shares sooner, for causes such as "helping cure all diseases by the end of the century," he said a blog post. 
"I'll be able to keep founder control of Facebook so we can continue to build for the long term, and Priscilla and I will be able to give our money to fund important work sooner," he said, referring to his wife.
Such actions have not always sat well with institutional investors. Google's plan, announced in April 2012, drew a legal complaint from a Massachusetts pension fund and other investors who said it would unfairly allow founders Larry Page and Sergey Brin to strengthen their corporate control. The suit was settled before testimony began in a Delaware court in June 2013.
Facebook noted in an SEC filing: The holding of low- or non-voting stock, such as our Class A common stock or Class C capital stock, may not be permitted by the investment policies of certain institutional investors or may be less attractive to the portfolio managers of certain institutional investors.
Zuckerberg controls a majority of voting rights at Facebook. So great is his influence, in fact, that the company noted it didn't need the "yes" vote of any other stockholder to push the plan through.