Xi Urges Focus on Jobs With China Economy Under Growing Strain
Bloomberg News
Anticipates 'many hardships' as supply-side reform deepens

Tells regions to improve product quality, foster new industry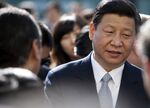 Chinese President Xi Jinping said more should be done to deal with unemployment as the government tries to curb overcapacity in state-owned enterprises, anticipating "many hardship" as the world's second-largest economy comes under increasing strain.
"As supply-side structural reform deepens, some employees will be laid off," the official Xinhua news agency reported Xi as saying during an April 24-27 visit to Anhui province. "We should pay more attention to employment, create more jobs, and implement and improve assistance measures."
Xi's remarks underscore the tightrope Chinese authorities must tread as they seek to overhaul the bloated $18 trillion state-owned enterprise sector, with labor unrest emerging as a key concern. Steady employment and rising salaries are crucial to the shift toward an economy premised on consumption and services, and they also underpin the legitimacy of the Chinese government. 
While authorities have pledged there won't be a repeat of widespread layoffs that accompanied a similar overhaul in the 1990s, around 1.8 million workers in the steel and coal sectors alone are expected to be lose their jobs. State-owned companies are plagued by inefficiency, but they provide employment for millions of people and power much of the economy, from energy to commodities to shipping.
In reported comments Wednesday, Xi said it is the "bottom line responsibility" of officials to ensure people's livelihoods, and that reform should start with "issues people feel most strongly about."
He said businesses should be encouraged to carve out more job openings, while regions should optimize supply structures, improve product quality, and develop new industries, products and services.