Ackman, Valeant Offer Apologies, Concessions at Drug Hearing
By and
CEO Pearson, investor Ackman, former CFO testify in Washington

`It was a mistake to pursue' big price hikes, Pearson says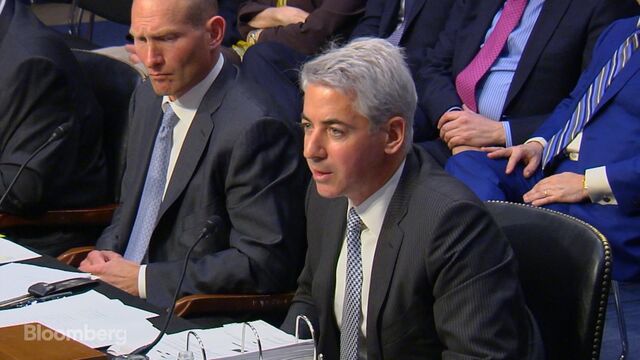 Valeant Pharmaceuticals International Inc.'s outgoing chief executive, Mike Pearson, and billionaire investor Bill Ackman offered apologies and concessions to U.S. lawmakers on Wednesday at a Senate hearing on the price of drugs where the company was criticized by Republicans and Democrats for its business practices.
At the panel's third hearing on drug costs, Ackman, whose hedge fund is now a major shareholder in the drugmaker, and Pearson both said it was a mistake to jack up the prices of drugs after buying them -- a strategy that until last year had made Valeant a darling of Wall Street.
"By all accounts, Valeant is the company that perfected the strategy of strategic acquisitions and price hikes that made it Wall Street's dream come true," said Senator Claire McCaskill of Missouri, the highest-ranking Democrat on the Senate Special Committee on Aging.
Lawmakers in the House and Senate have lambasted Valeant over the cost of two heart drugs, Isuprel and Nitropress, that Valeant acquired and soon after raised their prices by 525 percent and 212 percent, respectively. Senator Susan Collins, a Maine Republican who leads the committee, also noted two other Valeant drugs, Syprine and Cuprimine, which are both used to treat a rare, genetic disorder called Wilson's Disease. Valeant raised Cuprimine's price for 100 capsules to $26,189 from $800, and Syprine's price was increased by more than 30-fold, Collins said.
'Regrets'
Pearson told the committee he had "regrets" over some of Valeant's practices.
"We have made mistakes," the CEO said. "We need to work to regain the confidence of Congress, doctors, the public and patients."
McCaskill and Collins said they had contacted hospitals to find out whether they were getting a 30 percent discount that Valeant said it was giving on the drugs. The hospitals contacted didn't, the senators said.
Bill Ackman, whose Pershing Square Capital Mangagement LP now controls two seats on the board, said he texted Valeant's chairman during the first part of the hearing to recommend directors agree to cut the price of the drugs that were the focus of the session. He proposed reducing the cost of Nitropress and Isuprel by 30 percent so that all hospitals could have access.
"My recommendation is going to be that we reduce the prices of those drugs," Ackman told the committee. He said the company needed to start using "socially responsible pricing."
'Never Repeated'
"As a recent member of Valeant's board, I am committed to ensuring that this approach to drug pricing is never repeated," Ackman said in written remarks submitted to the committee.
Pearson said he, too, realized Valeant had gone too far.
"It was a mistake to pursue, and in hindsight I regret pursuing, transactions where a central premise was a planned increase in the prices of the medicines," Pearson said in prepared testimony submitted to the committee ahead of the hearing. "The company was too aggressive –- and I, as its leader, was too aggressive."
Company Profits
The company was also questioned about the profits it made on many drugs after raising the prices, without a corresponding increase in research spending on research and development.

"Our investigation has revealed that Valeant has already recovered the full cost of acquiring these four drugs, and the cost of manufacturing them is dwarfed by the net revenue they generate," Collins said in her remarks. "We can find nothing to explain these dramatic price increases beyond Valeant's desire to take advantage of monopoly drugs."
Valeant shares rose 2.5 percent after the markets closed, as the hearing was ongoing. They had fallen 3.6 percent to $34.92 at the close in New York.
Ackman, Schiller
Along with Pearson, the panel heard from health-care providers and a patient who said she faced high drug prices from Valeant.
The patient, Berna Heyman, said she suffers from Wilson's disease and that after Valeant began raising prices on Syprine her co-pays for the drug rose to $10,000 a year. After she appeared in a media report discussion her situation, she said that Valeant attempted to send her a bouquet of flowers and an offer of assistance.
"I refused the flowers and asked that the sender be informed of my refusal," Heyman told the committee. She said she refused Valeant's help because she thought patients shouldn't need special treatment to afford the drugs.
Collins said the committee's investigation had found similar stories, where patients couldn't access financial assistance to afford expensive drugs from Valeant.
"Your patient assistance program does not have a good track record and is viewed as being very difficult to navigate," Collins said.
Business Model
In his written testimony, Pearson sought to downplay how important or widespread the price increases were.
"Price increases in a small segment of our company have overshadowed our activities," he wrote, referring to about 1,800 products he said Valeant makes and sells -- including prescription drugs, over-the-counter treatments and other health products. The "narrow focus" on a few drugs whose price Valeant raised dramatically "has given Congress and the public a misimpression that our strategic focus revolved around acquiring older, off-patent drugs, which in fact was not the case," he said.
The committee questioned him on that point.
"This is misleading to act as if this is the problem with four drugs," McCaskill said. "This is the business model. "
In the first quarter of 2015, Isuprel was the company's top-selling drug with $72 million of sales, while Nitropress was fourth with $62 million.
In addition, the company raised prices by at least 10 percent on more than 70 drugs and drug formulations from the end of 2015 through Jan. 15, 2016, according to data from DRX, a unit of Connecture Inc. that provides price comparison software to health plans. Pearson said the company sells about 200 prescription drugs in the U.S.
Pearson is stepping down as CEO in May, after months of turmoil and will be replaced by Perrigo Co. CEO Joseph Papa. Since its August peak, Valeant has lost more than 85 percent of its stock market value, failed to file its annual report, said it is being investigated by the U.S. Securities and Exchange Commission.