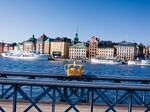 Sweden's central bank is calling a truce in the currency war.
 
As policy makers in Stockholm last week announced they would reduce the pace of their quantitative easing program in the second half of this year, they also signaled they are now willing to accept a stronger krona.
And traders took them at their word. The trade-weighted KIX index this week broke through a level that just as recently as December triggered warnings of a currency intervention. 

According to Martin Enlund, an analyst at Nordea, the central bank may now be prepared to allow the KIX to strengthen to about 105.5, or about 2.6 percent from the current level, before taking action. 
The more relaxed attitude comes as the Swedish economy is booming -- helping policy makers in their battle to spark inflation -- and goes hand in hand with a reduced pace of bond buying after June.   
Enlund says the Riksbank is experimenting with "mini-tapering" and that currency interventions now look "very distant". Should the krona strengthen too much, the bank's first step would probably be to increase bond purchases again, he says.


Before it's here, it's on the Bloomberg Terminal.
LEARN MORE