Slack Targets Salesforce, Oracle With Productivity Aim
by
Commerce will take a back seat to enterprise, VP Product says

Company is gunning for Salesforce.com, Oracle, Microsoft, SAP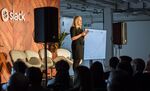 Slack, the corporate chat platform, has painted a target on the likes of Salesforce.com Inc. as well as software giants SAP AG, Oracle Corp. and Microsoft Corp., with ambitions to one day replace office productivity software, ranging from expense reporting to bookkeeping tools.
"Slack is not just a communication tool for teams, it is also an operating system for teams," April Underwood, Slack's vice president of product, said in an interview with Bloomberg Radio Wednesday. She said Slack wanted to become the access point to "the hundreds of apps" corporations currently use for anything from customer support to human resources.
"Slack's goal is to integrate with a rich and diverse universe of apps," she said separately.
The San Francisco-based startup's software is already being used by 77 percent of Fortune 100 companies in some way, Underwood said. The platform has 2.7 million active daily users, of which about 800,000 are using paid-for accounts. Underwood said that adoption was particularly strong in the tech, media and government sectors.
Underwood, who joined the startup after executive roles at Twitter Inc. and Alphabet Inc.'s Google, said Slack's move into enterprise functions like managing customer relationships and sales tools would be helped by "bots" -- automated software applications, either developed by Slack itself or outside developers working with its application protocol. Among the 380 applications currently built for Slack's platform, at least a half dozen are bots that can assist in chatroom-based meetings by prompting team members for responses, or search for useful imagery, or discover statistics that can be inserted into other Slack chats.
Underwood said there was a misperception that bots always had to involve artificial intelligence. "A bot is really just about allowing a human to interact with software through the same channels that they have typically used to communicate with other humans," she said.
Facebook Inc. last week announced that it is opening up its Messenger chat platform to bot developers. Telegram, a rival messaging service, has allowed bots since June 2015. And many envisage messaging apps as the next frontier of e-commerce, with consumers increasingly completing purchases directly from chat rooms rather than using stand-alone apps.
While consumer-facing companies such as Facebook or Twitter are using bots to promote online sales, Slack will devote its development efforts to creating sales-team and customer-service tools, Underwood said.
To help jump-start the creation of third-party apps, some of the venture capital firms that financed Slack started a separate, $80 million fund for developer partners. The investors include Accel, Andreessen Horowitz, Index Ventures SA, Kleiner Perkins Caufield Byers, Spark Capital and The Social+Capital Partnership.
That fund has made six investments so far and plans dozens more in the next couple of years, Underwood said separately.
Slack itself announced the completion of a $200 million investment round -- the company's ninth -- in early April. That investment brought the total amount Slack has raised from outside investors to $540 million and valued the company at $3.8 billion, among the highest of the current crop of Silicon Valley startups.
Before it's here, it's on the Bloomberg Terminal.
LEARN MORE