Portugal Says It's `Very Confident' on DBRS Rating Decision
by and
Investment grade rating from DBRS lets Portugal qualify for QE

Commerzbank, Rabobank strategists don't expect cut to junk
Portugal is "very confident" about Friday's review by DBRS Ltd. of the country's only investment-grade rating, which lets its debt qualify for the European Central Bank's bond purchase program, Foreign Affairs Minister Augusto Santos Silva said.
"Every objective indicator shows Portugal is on the right path in terms of budget consolidation," Santos Silva said on Wednesday in comments broadcast by television station SIC Noticias. "The first-quarter budget execution is in line with budget projections, public debt is declining, the economy is growing, unemployment is falling,'' he said.
Portugal's credit rating was retained at investment grade by DBRS on Nov. 13, securing eligibility of the country's debt for the ECB's quantitative-easing plan. DBRS kept the rating at BBBL, its lowest investment grade, with a stable trend. For Portugal's bonds to be eligible for purchase under the ECB's quantitative-easing plan, the nation must be rated investment grade by at least one major ratings company.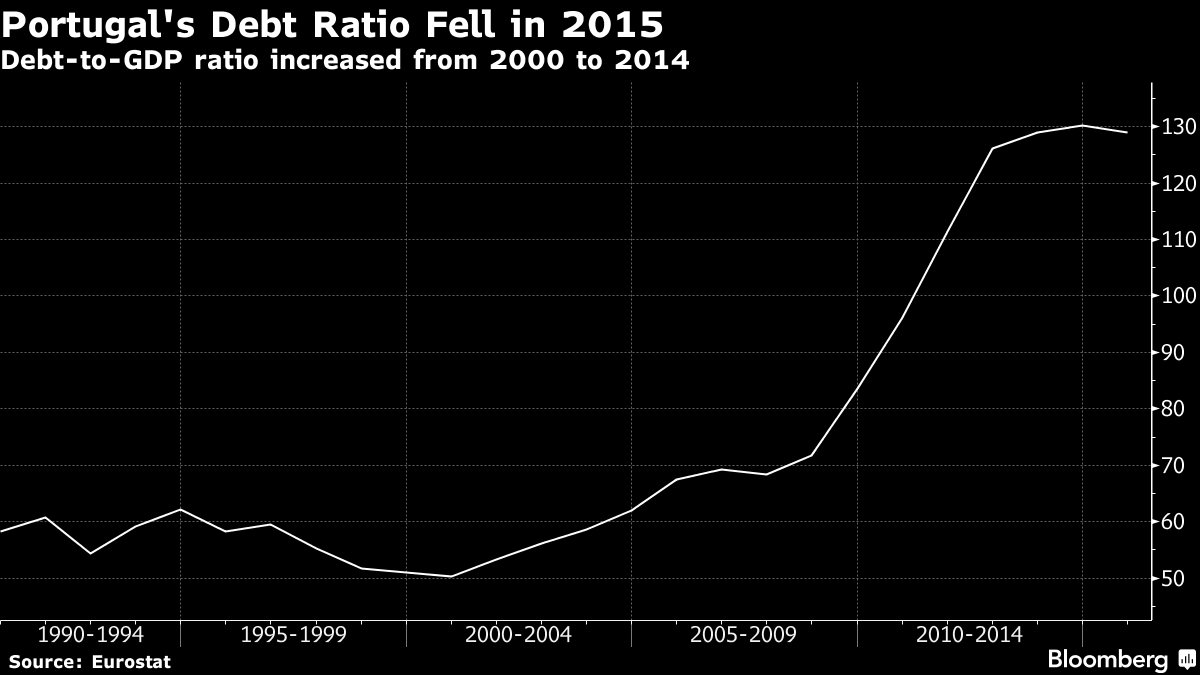 Prime Minister Antonio Costa was sworn in at the end of November and his minority Socialist government plans to reverse state salary cuts faster than the previous administration proposed, while increasing indirect taxes. Costa says his government will be propped up in parliament by the Left Bloc, Communists and Greens, which haven't followed the Socialists in backing European budget rules in the past.
Portugal targets a budget deficit of 2.2 percent of gross domestic product in 2016, narrower than 4.4 percent in 2015 and below the European Union's 3 percent limit. It forecasts debt will decline for a second year to 124.8 percent of GDP in 2016 from 128.8 percent last year. The government sees the economy growing 1.8 percent this year.
After Friday, the next review by DBRS is scheduled for October, when the government is also due to hand in its 2017 budget proposal. The government's debt is rated below investment grade, or junk, by Fitch Ratings, Moody's Investors Service and Standard & Poor's.
Commerzbank AG analysts Rainer Guntermann and David Schnautz wrote in an April 25 note that they expect DBRS will maintain Portugal's investment-grade rating on Friday. Rabobank International strategists Richard McGuire, Lyn Graham-Taylor and Matt Cairns wrote in a note on April 19 that they don't think DBRS will downgrade Portugal.
Worst Performer
Even with the ECB's purchases, Portugal is the euro region's worst-performing sovereign-bond market this year through Wednesday, according to Bloomberg World Bond Indexes. The nation's securities have lost 2.4 percent, more than Greece and compared with gains for everywhere else in the bloc.
"Portuguese bonds have been recovering and there may be still a possibility of a good performance if DBRS maintains its current rating for the country," said Gianluca Ziglio, a strategist at Sunrise Brokers LLP in London. "I think it can be a relief rally but I don't think it will be a massive rally."
Portugal's 10-year bond yielded 3.13 percent as of 2:32 p.m. London time Thursday. The yield climbed to 4.53 percent on Feb. 11, the highest since March 2014. Still, that compares with 18 percent in 2012 at the height of the euro region's debt crisis.
The country built up a cash buffer before its bailout program ended in 2014 and the debt agency forecasts that the treasury cash position will be 6.5 billion euros at the end of 2016, compared with 6.6 billion euros at the end of 2015.
Before it's here, it's on the Bloomberg Terminal.
LEARN MORE