Paris Terror Suspect Abdeslam Charged After Transfer to France
Gaspard Sebag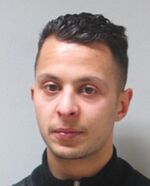 Terror suspect Salah Abdeslam was charged by French authorities following the November multi-site attacks in Paris that killed 130 people.
Abdeslam was charged for terrorist conspiracy, murder, possession of explosives and weapons, according to a statement from France's public prosecutor. Following a hearing with a judge he was placed in custody.
Before it's here, it's on the Bloomberg Terminal.
LEARN MORE